Planetary News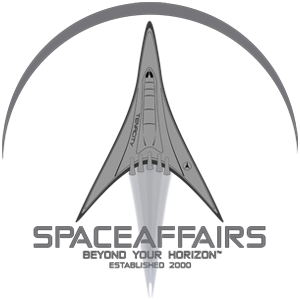 December 24, 2020.

Merry Christmas and a Happy New Year 2021

The year 2020 was a very stressful year worldwide as we were all confronted with something we could not see. We all have to live with the effects of the Corona pandemic, and by now there have been cases of infection even in Antarctica Station.

Nevertheless, 2020 was a year that made many people rethink, including us. We stopped all operations in 2020 and hope to return to a "different normality" in April or July 2021 at the earliest. This demands a lot from us.

Nevertheless, we look optimistically and imaginatively into the year 2021 and can promise that some things will change, because quite simply things have to change.

We wish you all a Merry Christmas and a Happy New Year 2021. The coming days will be different from what we are used to, but we have to go through it to protect ourselves and our fellow human beings. Stay lively and healthy! We hope to see you in person in 2021!

Ad Astra,

Your Space Affairs team
October 27, 2020.

Ad Astra livestream on YouTube

Since we can't travel anywhere at the moment to bring the universe closer to you, we bring the universe to your home!

A few weeks ago we launched live streams on our YouTube channel, which deliver rocket launches into orbit (and beyond), space missions with crews as well as planetary exploration missions back home. Sometimes it is stressful to keep track of things, or the times don't fit for a normal human being, for example when you start a livestream at four in the morning!

During the livestreams the live chat is switched on, so you can ask us all kinds of questions.

One of the most beautiful livestreams took place on 24 October 2020 when SpaceX again launched 60 satellites of SpaceX' own "Starlink Satellites" into space, increasing the number of Starlink satellites to over 800. This is not appreciated by astronomers all over the world who fear that the night sky is not the same as the one we know because of this global satellite network. SpaceX is not the only company working on global high-speed internet coverage even in the most remote places.

We are looking forward to see you on the livestream!

Scheduled livestreams can be found on our YouTube channel in the section "Scheduled Livestreams".

Ad Astra!


August 27, 2020.

2021

Due to the ongoing COVID-19 pandemic, we have decided to cancel all remaining dates for 2020. It is important to us that our events, expeditions and adventures can be carried out as safely as possible.

For example, we currently consider it impossible to perform parabolic flights (Zero-G flights) without physical contact. Wearing a mouth-nose protection mask will not help here. Expeditions in Baikonur are also not possible under the given conditions, the city is under special security measures, not to mention the Baikonur Cosmodrome. Travel for tourist purposes to Russia and Kazakhstan is not possible at the moment anyway, not even to the United States. Star City near Moscow, where the Gagarin Cosmonaut Training Center is located, is also restricted.

We can understand all this very well and would like to make our contribution by not playing with the health of our customers as well as with the local employees of our partner companies, no matter how a situation is assessed locally. We also do not want to make promises which cannot be kept under the given circumstances.

New dates can be found on our SPACE AFFAIRS website, not starting before the end of March 2021.

As bitter as all this is for us, we will continue to work hard to ensure that in 2021 you can continue to enjoy the quality and security to which we have been committed for over 20 years. Our customers appreciate it from all these years when we say "We pack our customers in cotton wool". Next year we will add a few more layers of silk!

We will offer live streaming of special space missions on our YouTube channel as well as continuing new video podcast series and posting all upcoming news on the social media channels as well as here in the news section.

See you in 2021 in the vastness of the steppe where people set off into space, in weightlessness where we escape from gravity and in space. Stay excited!

Ad Astra!

Stay healthy! Protect yourself and your fellows!

Your team from SPACE AFFAIRS.
July 28, 2020.

Earthlings - Sheltered in Space

is a new video-webcast series powered by Space Affairs. In this series, we will talk with humans (The Earthlings) from around the globe about how space and technology are influencing the evolution of these humans and their lives.

In the first episode, Tonya V. McPhearson and Andreas P. Bergweiler (COO and founder of Space Affairs) are talking with David Goldsmith, founder of the "Moon Hut Foundation".

"You will not get on these ways back to the Moon!" he said in a room full of NASA scientists once.

He likes Star Wars, Star Trek, Battlestar Galactica and all tech stuff, but he isn't a space geek who is praising all the achievements of NASA since 1957.

David Goldsmith is an "out of the box thinker" who stumbled into a room full of NASA scientists in 2014 in Mountain View/CA. (at NASA AMES) in which they were arguing about the best way to get back to the Moon. After listening to this, he was asked what he thought about it and sometime later the project "Moon Hut - A box with a roof and a door" was born with the Moon Hut Foundation.

The project Moon Hut is not a space project for a moon settlement or exploration. It is an earthly project which will inspire every single person, company, industry and whoever gets inspired by it to face the challenges of the present and the future to create a new economic system which can take place between Earth and Moon. So "MEARTH" [M(oon)EARTH] was born.

David Goldsmith talks here with Tonya and Andreas (Founder and COO of SPACE AFFAIRS) in the first episode of "Earthlings - Sheltered in Space" about the beginnings, about book writing, about space shuttle simulators, pace-car rides on racetracks, errors in management systems, what the Moon Hut Project is and all sorts of funny incidents since he has been pushing the project.

It is a very long talk for more than two hours, but we can promise you that there is not one single minute where you will feel bored!

An extraordinary journey of a man who remembers the name of the first man on the Moon but not the last one by having for 24/7/265 the Earth's buddy in mind!


July 13, 2020.

How does a parabolic flight work?

In 20 years of parabolic flights we have created an incredible amount of video material. You can find the best footage on our YouTube channel.

Now we have decided to make a new video series "How things work" in which our founder and COO Andreas gives more information about certain things. He has participated in more than 3,500 individual parabolas, has completed the Basic Training for cosmonauts at the Gagarin Cosmonaut Training Center (GCTC) and has worked out all the programs for Space Affairs. He "wraps our customers in cotton wool"!

The first episode is about parabolic flights, also called Zero-G flights. You will see how a parabolic flight works. It's a fact: Even customers who have participated in such flights sometimes don't understand how it all works! Now you finally have the opportunity to hear how it works!

Have fun with it!


June 16, 2020.

Information on the COVID-19 pandemic situation regarding our adventures and events.

The COVID-19 pandemic continues to hold the world in its grip. Even if some countries are gradually easing their restrictions, nobody knows at present to what extent the progress of the pandemic will continue to have an impact.

Especially our adventures and events in Russia are affected by this, such as training sessions in the Russian Yuri A. Gagarin Cosmonaut Training Center, parabolic flights with the IL-76MDK and unique expeditions in Kazakhstan for the Soyuz landing as well as for launches from the Russian spaceport Baikonur.

The observance of social distance and the avoidance of large crowds, especially at airports and in the aircraft themselves, are not guaranteed. Zero-G flights, for example, are not feasible without physical contact.

We keep an eye on the data and facts which are given scientifically and do not rely on statements which do not provide 150 per cent certainty and expect then later in the year possibly specifications of the implementing organizations. At present, we cannot make any firm statements. We do not want to expose you, our highly valued customers or our partners to any risks.

However, we are always available for you, use our offers on Facebook and Twitter, where we keep you up to date.

We hope for your understanding and keep you healthy.
June 1, 2020.

A new chapter in space travel with crews.

Last week we were looking forward to the events in Florida. At the Kennedy Space Center a new story was written which will certainly influence space travel in the future to a greater extent.

In summer 2011 the last Space Shuttle mission "Endeavour" was completed with STS-135. Since then, no flights with astronauts from the Kennedy Space Center have taken place and NASA was dependent on the Russian systems Soyuz. Since then, the companies Boeing and SpaceX have been working on new space vehicles that can transport people into space. This time not under NASA responsibility, but under the responsibility of Boeing and SpaceX.

Thus, on 27th May, a launch attempt was made to fly NASA astronauts Bob Behnken and Doug Hurley with the Dragon-2 spacecraft into space using a Falcon 9 rocket (both in-house developments of Elon Musk's company SpaceX) in order to subsequently dock with the ISS. The attempt was abandoned 16 minutes before the planned lift-off because the weather was not cooperating.

The next launch date was set for May 30, and the launch was successful. Bob Behnken and Doug Hurley reached Earth orbit after 8 minutes, and in a 19-hour race to catch up with the ISS, the Dragon-2 finally docked with the International Space Station on May 31. The special thing about the Dragon spacecraft is that it is a system that flies fully autonomously, astronauts are more or less only observers of the various phases of the flight, but can intervene at any time if necessary. The Russian Soyuz spacecraft is operating mostly in the same mode, only to mention that.

We found the best moments from over 6 hours of video stream on May 27th and edited them into a video, so that you get a very deep insight into the all-new SpaceX mission into Earth orbit and the novel technologies and launch procedures, even if the launch did not happen that day. Have fun watching it!


May 8, 2020.

Special circumstances require special measures.

The COVID-19 pandemic is keeping the world on tenterhooks and will keep us all busy for a long time to come. It is not a question of being able to carry out our adventures and events again, but rather the question at the moment is from when and how we can move safely in the world again.

At the moment we estimate that there will be no possibility in the year 2020, however, we consider the possibility as given. However, we do not want to take any risks. SPACE AFFAIRS exists for more than 20 years and we are also financially secured by our parent company PRO TOURA through reserves. It has always been our goal to provide high quality services and we will continue to do so. We are currently working on new services and bringing together ideas that will lead to realistic new possibilities in a shorter time.

Stay healthy and enjoy new opportunities and adventures!


April 04, 2020.

Today we welcomed our 50,000th subscriber at our YouTube channel!

Since August 15, 2006, we are on YouTube. In this time YouTube was just over one year old. We decided already at that time that we only wanted to present our own produced videos there in the video portal. It started with flight videos with the legendary MIG-25 "Foxbat", which we did between 2003 and 2006 at the Zuchovsky Airbase of the Gromov Flight Research Institute near Moscow. There we also flew the MIG-29 as well as the SU-27.

Another main focus was on the parabolic flights in Russia, which we have been conducting since 2002, as well as expedition tours to the Baikonur Cosmodrome in Kazahkstan. We towed film crews halfway around the world and thus received special and high quality film material. Not everything could be used because it was reserved for the companies or broadcasters for which we made the productions possible.

Especially in the last few weeks, where the world is in a kind of "lock-down", we see that our YouTube channel is getting a lot of attention, and this has also led us to cut new videos which are presented in the very well known Space Affairs Storytelling. It's not about showing great footage, behind each of these footage are people or ideas, and we've helped to turn those ideas into reality or even personal dreams into reality.

Just have a look around our channel, we can promise you it's worth it!


March 16, 2020.

Global Corona Virus Crisis

The corona virus does not stop at our program portfolio either. Until further notice, we cannot offer visits to space centres. This refers to the Kennedy Space Center in Florida, the Johnson Space Center in Houston, the Gagarin Cosmonaut Training Center in Star City (we also cannot determine fixed dates for Zero-G Flights at the moment) and the Russian Spaceflight Mission Center in Korolyov as well as expedition tours to the Russian Baikonur Cosmodrome. Areas of the European Space Agency ESA are also not visitable at the moment. Special areas such as special aerospace museums in the USA (e.g. Smithsonian Museum) as well as in Russia (Memorial Museum of Cosmonautics, Energia Museum or the Monino Aerospace Museum) remain closed for the time being.

Surely we can add you to lists of interests and will inform you as soon as possible in case of changes. We consider these measures to be necessary in order to contain the spread of the corona virus and the resulting potentially disease COVID-19, so as not to overburden the health care systems.

Stay healthy!


March 12, 2020.

The Space Affairs Media Gallery

20 years on the market means an unbelievable flood of images and video material from all these years. We have collected hundreds of terabytes of material and have also been looking through it in the last few weeks.

It wasn't easy to pick 860 pictures out of this mass, which we packed into our new "Space Affairs Media Gallery"! In connection with the updated YouTube videos we show a portfolio here, which you won't find like this!

We wish you a good trip. We will of course always update the media gallery!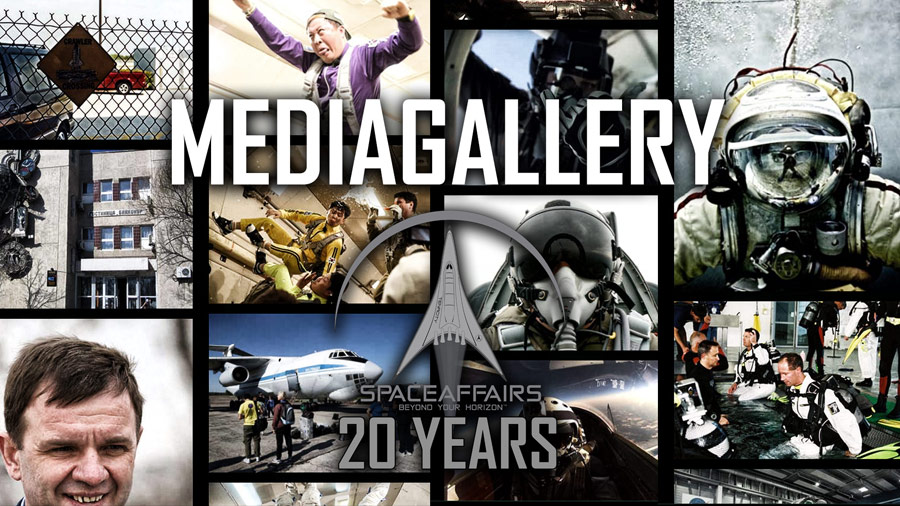 February 20, 2020.

HAPPY 20th BIRTHDAY, SPACE AFFAIRS!

The beginning of SPACE AFFAIRS can be seen in an entry in the foundation documents of the then GmbH when there was the following entry under the item Object of the company in subitem 4:

'Development and implementation of space and flight adventures worldwide, events for private and corporate customers'.

On 20.02.2000 the company was entered in the commercial register, and things started to happen. Smiled at by bankers and many others, over the years an IT company quickly turned into a growing company in a completely new business model, Space Tourism. The foundation stones were laid that did not exist in Europe at least at that time. Only in the USA, there were comparable offers, and even there they were still very new and unexplored. When we noticed that people were striving for heights and widths, we pushed the offers and developed the programs, some of which are still valid today. In the net, there are some identical offers, but we know that these offers were initially taken over from us. You can copy the programs, but you can not copy one thing: our way of integrating our customers into everything.

Thanks to all customers, business partners, suppliers, idea providers, market companions, friends and families for the last 20 years. We have written ourselves on the agenda to help shape a different future, and we will do this with special quality features and untiring significant commitment!

We will present now in a short time a special also in which we show 870 pictures and videos from the last 20 years. A little more patience, because this is a mammoth task!

If you like, go with us on a trip and learn more about us!

You will find our customers who are willing to communicate online in the The Book of Stars.

Or you can download the book in PDF format by Andreas P. Bergweiler TENACITY - The Book of Stars in German and English free of charge!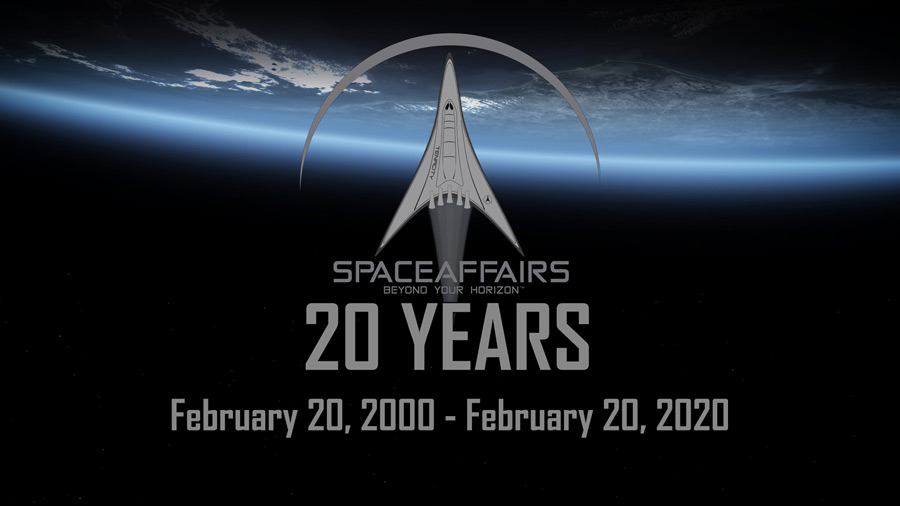 February 18, 2020.

Weightless training with Russian cosmonauts "Rookies".

We have added some dates in 2020 to our Zero-G flights with the Ilyushin 76MDK of the Gagarin Cosmonaut Training Center.

Some of the flights are carried out together with Russian cosmonaut rookies, who are trained by the Gagarin Cosmonaut Training Center (GCTC) and are released into the feeling of weightlessness for the first time. This gives us the opportunity to conduct our legendary Zero-G program for smaller groups or individuals, making you part of the various exercises that cosmonauts have to learn to tune their body and mind into the completely new environment.

We can promise: such experiences are special. What we can't promise is that your stomach will be stable and you won't have to use the vomit bag, which is still not a massive problem when something like this happens! If something has to come out, then you have to let it go! When it is out, you can go back to the complete absence of gravity! But that can happen to professionals too! You can learn more on our presentation about our legendary 5-day expedition into weightlessness!

Welcome to zero gravity!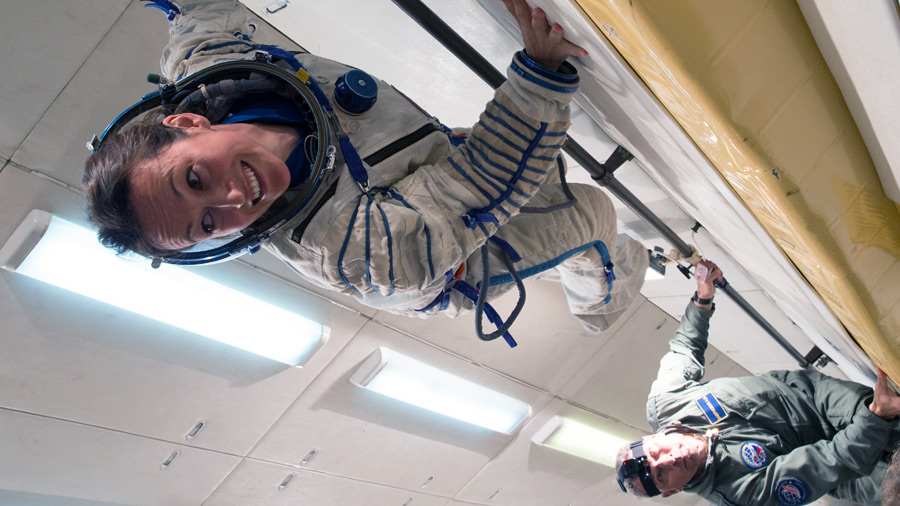 January 25, 2020.

An era is coming to an end.

The launch of Soyuz MS-16 currently planned for April 9, 2020 from the Baikonur Cosmodrome will probably be the last launch of a Soyuz spacecraft for a long time, which will transport a non-Russian astronaut to the International Space Station ISS. NASA astronaut Chris Cassidy, together with his Russian colleagues Andrei Babkin and Nikolai Tikhonov, started his third flight into space. For Babkin and Tikhonov it will be the first flight.

Experience the international flair of the Baikonur Cosmodrome for the last time! When NASA astronauts Jessica Meir and Andrew Morgan carry out the planned landing on 17 April, Chris Cassidy will be the only NASA astronaut on board the International Space Station until the first of the planned new spaceships "Dragon-2" from Space X or "Starliner CST-100" from Boeing docks with the ISS. The next launch of Soyuz MS-17 planned for October 2020 will be with a Russian-only crew.

Come with us on the "road to the stars" on our Baikonur Cosmodrome expeditions, legendary since 2004! We can promise you that you will never forget it in your life, and that you will never want to go back home again!

The date for participation in the expedition is 4 March 2020! (Personal data of the visitors must be submitted to Roskosmos because of the access clearance for the cosmodrome and the city of Baikonur.

Here you can get all the details about the largest cosmodrome in the world: The Road to the stars! - Baikonur Expedition of SPACE AFFAIRS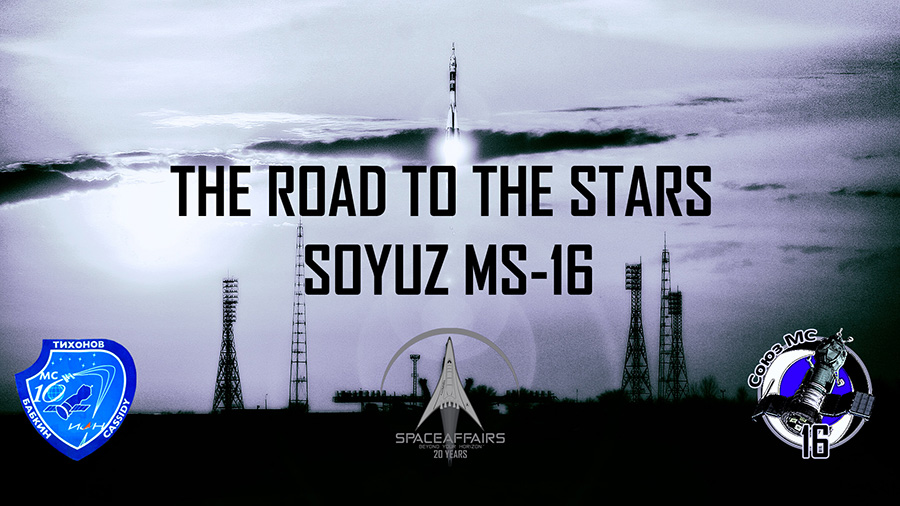 January 7, 2020.

So close to space and zero gravity.

In the first quarter of 2020 we will dive deep again in the Hydrolab of the Gagarin Cosmonaut Training Center (GCTC). This was closed during the last 3 years due to modernisation and rebuilding measures. The 17 metres deep and 25 metres wide Hydrolab offers the best opportunity to learn about EVA (Extra Vehicular Activity) and you can experience what it means to work in a 125kg Orlan space suit under difficult conditions.

On the bottom of the Hydrolab, true-to-scale modules of the International Space Station ISS will be lowered, and support divers will guide you to them so that you will be under water for between 2 and 3 hours.

To experience this adventure you need a basic course in Scuba-Diving (e.g. PADI).

For more information about this training please visit our "Astronautics" section" here on Space Affairs!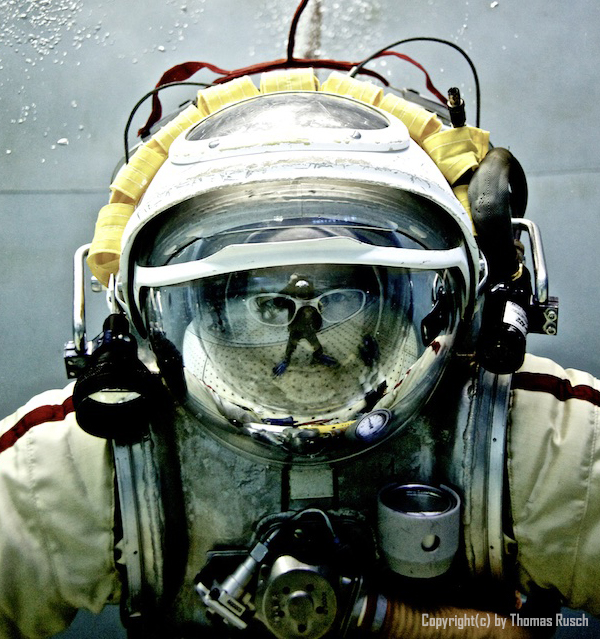 December 25, 2019.

The Space Affairs team wishes everyone happy holidays and a great time between the years. We use this time to reduce the speed a little bit and to recharge our batteries for the year 2020.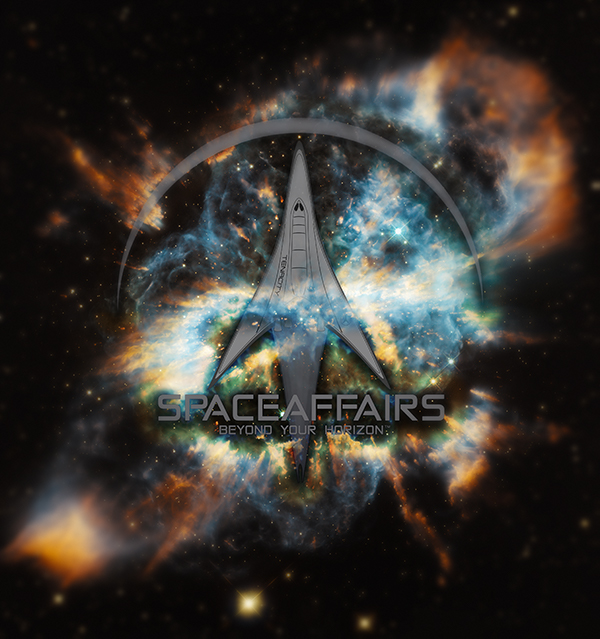 December 8, 2019.

Space Affairs turns 20 on February 20, 2020!

The preparations for special moments and actions have been going on for weeks and we have some plans for 2020 to let you all participate. It was a crazy idea to develop a business in the year 2000, which was also the content of Space Tourism. Many smiled about it, some mocked it. Who would have thought then that all this would last over two decades!

Many changes were made, but we were always anxious to generate the best possible experience for our customers and to wrap them in cotton wool, according to the motto "Everything from one source!".

Stay excited about what will happen at SPACE AFFAIRS in 2020, it will be grandiose!

November 8, 2019.

In 2021 (we still hope so) we will be regularly in Cape Canaveral to participate in the new crewed launches from there with the "Dragon-2" from SpaceX and the "Starliner" from Boeing. And who knows, maybe the "Spaceship" of SpaceX 2021 will have the first launch with crews from there in 2021!

Since the last Space Shuttle launch STS-135 with "Atlantis" back in 2011 nobody has left the earth from the very historical place in Florida.

We are sure to have found a good access point to Cape Canaveral and mission control in Houston, so that we can continue our US east coast tour "The Dream is alive - again!". It starts in Washington, then continues Cape to Florida and then to Houston, Texas. There is much to see and touch, be curious. As you know, we don't do typical tourist tours like "Attention, you only have 5 minutes, don't touch anything and follow the guide with the umbrella".

By the way: With the first tour to the United States with customers to the shuttle lift-off of STS-101, the history of Space Affairs began in 2000.

Be patient and stay tuned!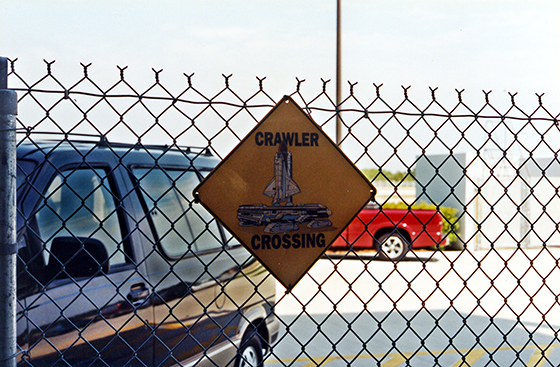 October 28, 2019.

"Gagarinsky start", or known as Pad #1 at the cosmodrome of Baikonur, has a long tradition, back to 1957. The first satellite Sputnik was launched from here in October 1957, also Yuri Gagarin (April 1961) and Valentina Tereshkova (June 1963).

The lift-off of Soyuz MS-15 on September 25, marked the last launch of Soyuz from here for the next 3 years minimum. All crewed launches will be done now from Pad No# 31/6. Gagarinsky will be moved into maintenance mode to equip the platform with necessary reconfigurations so that Soyuz-2 (digital) can also be launched from this very historical pad at Baikonur by 2023.

Join our "Road to the Stars" Baikonur Expeditions in 2020!

Even the launches in 2020, 2021 and 2022 are from LaunchPad No# 31/6, we do have the possiblity to have a closer look to the Gagarinsky pad, so join our "The Road to the Stars Expedition Baikonur" in 2020!
October 21, 2019.

"I think I'm going crazy. Where's up, down, left and right? And where the hell is front and back? Jesus Christ!"

We're aboard the world's largest parabolic aircraft, the Ilyushin 76-MDK of the Yuri A. Gagarin Cosmonaut Training Center, Star City, Russia. And we fly parabolas to escape gravity, to give it a bargain!

The machine offers us so much space that we can float, and after a while we also learn to move in weightlessness! Unreal! Above ground!

It's addictive! We could do that over and over again!

Our parabolic flights with the Ilyushin 76MDK of Yuri Gagarin Cosmonaut Training Center (GCT) are among the best adventures we have to offer since 2002, and our customers have also flown in the USA and France, but they believe that parabolic flights in Russia are the best experience, as the unique environment and the overall arrangement are part of it! We are planning three freestyle flights for March, June and September in 2020. So enough time to make the decision to finally beat gravity for a bargain!

How does a parabolic flight work? You can explore this and all you need to know here: "Zero-G Freestyle"


October 17, 2019.

We went thousands of kilometres to Kazakhstan and hundreds of kilometres through the steppe, only to see that.

The last 8 minutes of a long journey home.
October 12, 2019.

Soyuz MS-12 on the way home.

The landing sequence of the Soyuz MS-12, taken by our embedded photographer Markus Gloger from the back seat of a jumping car at high speed through the steppe of Kazakhstan.

We're just speechless!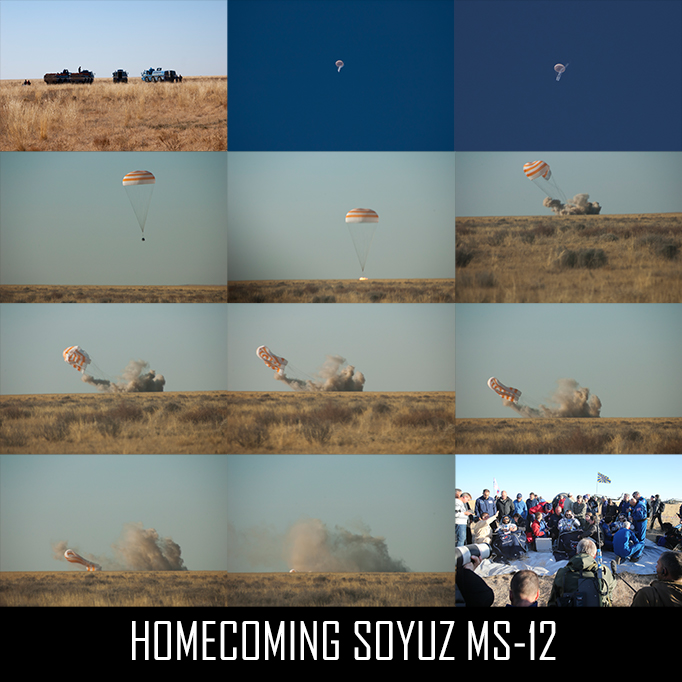 October 8, 2019.

We drove hundreds of kilometres in the steppe and between cities in the middle of Kazakhstan only to be there, just in time. The chance to see the landing is related to the exact timing of undocking of Soyuz from the International Spacestation and all milestones, what follows then in the mission plan.

Our leads did a brilliant job, took care of us as their own family, but as the signal turns on in the radio that Soyuz MS-12 is on landing approach, it runs really quick.

Thanks to all who made it possible, first of all to Alla Razuvaeva of Prostokosmos and her team!
October 7, 2019.

When you are with us on the road (sorry, inside the steppe), everything can happen, as like the chase to the landing site of the Soyuz MS-12 capsule.
October 6, 2019.

The Soyuz MS-12 landing expedition ended yesterday with a happy return to Frankfurt Airport.

The last days were extraordinary and stressful. Little sleep, high temperatures during the day, low temperatures at night. Bumpy roads which had to be covered with off-road cars, hundreds of kilometres. Hour-long car journeys on bad roads at all day and night times to get from Karaganda to Dzezgazghan, and two days later back again.

Our participants are completely speechless about what they were allowed to experience. The highlight was definitely when the Soyuz MS-12 return capsule appeared in the steppe at an exactly calculated point above the sky. However, after the landing and evacuation of the Soyuz MS-12 crew, there was enough time to take a closer look at some things that one would not have dared to believe before. The Soyuz Descent capsule from close, sightseeing of the amphiphilic vehicles, sightseeing of the MI-8 helicopters and much more.

Soyuz Landing Expeditions are very deep experiences that have more to do with people than with technology. One night in the steppe at sub-zero temperatures was balanced by the cooperation of the different nations and mentalities, and the next morning they didn't want to leave the steppe at all! Thanks to the guys on site, who generated a unique experience for our customers, where even our mission director Andreas P. Bergweiler could only marvel!

We now have all the images and video material for viewing, it will take some time, but we promise unique images that will speak for themselves. Stay tuned!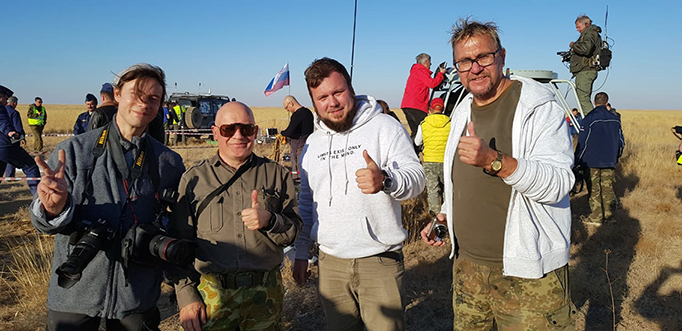 October 3, 2019.

Our expedition left the location this morning at 6:00 a.m. local time Dzezgazghan (Kazakhstan) and left for the landing zone Soyuz MS-12.

125 kilometres (as the crow flies) in south-eastern direction, any telephone contact via normal GSM network is not to be expected, so we lost the contact first.

At 17:00 local time Soyuz MS-12 started a soft landing, and the Recovery Forces started their work to evacuate the cosmonauts and astronauts from the landed Soyuz capsule.

Everything went very fast, and when we discovered our embedded in-house photographer Markus M. Gloger on NASA TV, we were sure: Our expedition had made it to the landing point!

To organise such a tour is incredibly complex, and we are happy without end that they made it!

Thanks to everyone who made this possible for us!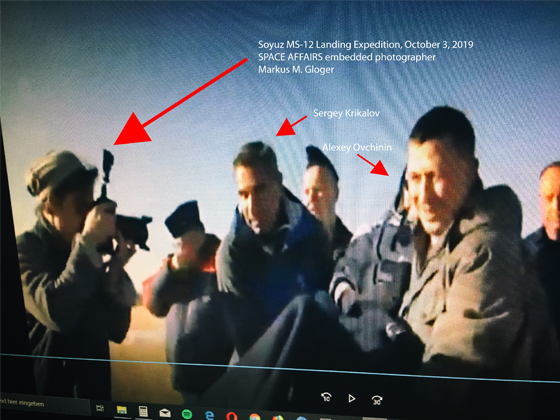 September 28, 2019.

"A landing in a Soyus is not for Weaklings," was the title of an article by Dennis Buchmann about the first Soyus landing tour we did in 2009. Today Matthias and Markus from Germany, Alan from Australia and Richard from the USA started their expedition at Frankfurt Airport. They were welcomed by our Mission Director Andreas. This time, as in 2009, we are integrated into the operations of the landing crews.

We have put together a program that is very special. Two nights in the steppe with the Roskosmos and GCTC landing specialists. More news and inspiration from the tour will follow soon.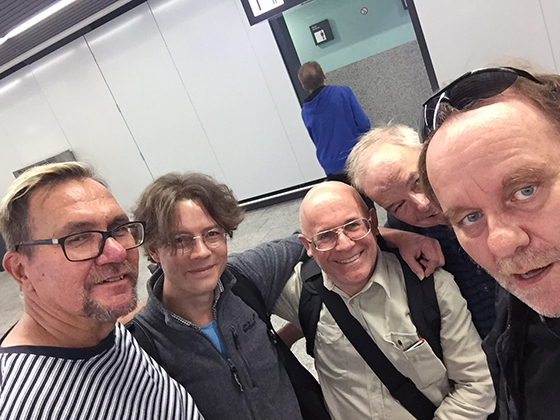 September 24, 2019.

Congratulations to the camera guy who did that awesome footage from this mornings roll-out of Soyuz MS-15 to the Garaninsky start launchpad No#1! Very unique shots!

The Soyuz rocket will deliver on Wednesday, September 25, three earthlings to space on route to the ISS: Oleg Skripochka - RSA, Jessica Meir- NASA and Hazza Al Mansouri representing the first UAE astronaut of MBRSC.

The lift-off is scheduled for September 25, 16:57 Moscow time (+2h GMT). Fingers crossed for the launch so that we will see Hazza next week Thursday back on Earth's soil in the vast steppes of Kazakhstan!
September 20, 2019.

SPACE AFFAIRS "SOYUZ MS-12 RETURNING FROM SPACE" EXPEDITION.

From September 28 to October 5, 2019, we go on expedition. This time again deep into the steppes of Kazakhstan.

On October 3 in the afternoon, the Soyuz MS-12 landing with Aleksey Ovchinin (RSA/Russia), Nick Hague (NASA/USA) and Hazza Al Mansouri (MBRSC/UAE) is planned near Dzezgazghan, and we want to be there!

We have a special guest with us on this expedition: Mikhail Kornienko. Mikhail spent more than 516 days on two missions in space, with Scott Kelly from NASA he was on board the ISS in the "One Year Mission" for almost a year. Who does not know the book "Endurance" by Scott Kelly yet, should make up for this gap in knowledge, in terms of astronautics there is no better book describing the life of an astronaut, on Earth and in Earth orbit.

Participants from Germany, the USA and Australia go on a journey with us, accompanied by our Mission Director Andreas and Markus Gloger, who will capture everything in highly professional pictures.

We will try to publish pictures "just in time" on our social media accounts, but this will probably be a difficult task, because apart from Iridium satellite phones, not a single mobile device works, depending on the landing point. We think it's simply time for our own communications satellite!

Here you can learn all the details of what it means to participate in a Soyuz Landing Expedition "Returning from Space"
September 18, 2019.
"It's been a long way, but we're here."
Alan B. Shepard
NASA astronaut, first US-American in space May 1961, commander Apollo 14 February 1971 at his first steps on the moon.

Welcome to the future!

Almost 24 months (no joking!) we worked on the new web world of SPACE AFFAIRS and are proud to present it to you.

We have spared no expense and effort in using state-of-the-art web technology to bring our world closer to you in any way, be it in the multimedia desktop version, in a special version for touch devices, or the mobile world.

After almost 20 years in the market that we have defined in Europe from the beginning, it was time to give our portfolio, and the SPACE AFFAIRS brand a new way that will take you beyond all horizons and into the years to come.

We have also decided to offer only the adventures, expeditions and events that are currently feasible or will be realistic in the next two years. Our history is a long one, we have also taken this into account, if you take a look in the section "The Book of the Stars", here you will find testimonials of our customers who couldn't be better to describe what SPACE AFFAIRS is!

For two subareas the countdown for the presentation (Exploration & Orbital) is already running, these areas are very special and require a longer development.

We hope that you will accompany us into the future and that you will get to know us personally. Let us enter into a space affair!

Ad Astra!
Your team from SPACE AFFAIRS