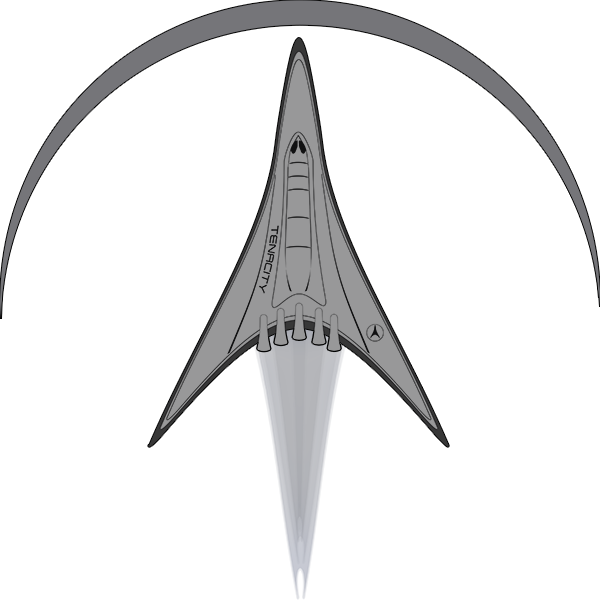 The flying stage
Zero-G for Media with the Ilyushin 76MDK
The flying stage
Zero-G for Media with the Ilyushin 76MDK
---
Note March 1, 2022: The attack on Ukraine that has now taken place naturally leads us to decide that we will suspend all activities in Russia and at the Baikonur Cosmodrome in Kazakhstan for an indefinite period of time.
SPACE AFFAIRS offers the media a unique opportunity to use the Ilyushin 76MDK as a film or photographing stage.

The Ilyushin 76 MDK (MDK = Flying Laboratory) is used for the training of astronauts as well as for technological testing and research of various devices, units and equipment technology, medical and biological investigations of organisms and their viability under weightlessness and underweight. Also, we use them as aeroplanes for our parabolic flights to give people an insight into the world of weightlessness.

The IL-76 was initially designed as a large cargo aircraft. The Gagarin Cosmonaut Training Center (GCTC) in Star City has three of these unique aircraft, which can be used as a flying laboratory for scientific payload missions and cosmonaut training. It has a large, specially equipped cargo hold, a reinforced airframe, particular wings and stronger engines than the regular version.

We have been flying the IL-76 in Russia since 2001 and have been able to carry out many film and promotion missions and have also worked independently. Among others for the British BBC (Space Odyssey - A Voyage to the Planets - 2005), many advertising campaigns for leading brands (Philips, Sony, LG-Electronics, McDonald's and a lot of more) have been initiated with our help. We carried out art projects in weightlessness ("La Gravedad de Los Asuntos - 2014" & Michael Najjar's art project "Outer Space" - ongoing) and supported many start-up companies such as the German project "Die Astronautin" and carried out music productions in weightlessness.

We are specialised in discussing specific questions and facts with film teams as we have the technical and content-related know-how. Moreover, above all, we have many years of experience.

In many discussions in all the years with marketing and advertising agencies as well as with the brand owners directly it quickly turned out that reality can be cheaper than generating it with software or with and complex stage arrangements.

Challenge us, we bring small as well as large projects into weightlessness. We can also arrange our experienced film teams who can implement your plan in weightlessness, including the most sophisticated technology that is state of the art, or even beyond!

There are no limits to ideas, and if you think that what you have in mind doesn't work, then talk to us. We make it possible and put it into reality.
SPACE AFFAIRS
The Flying Stage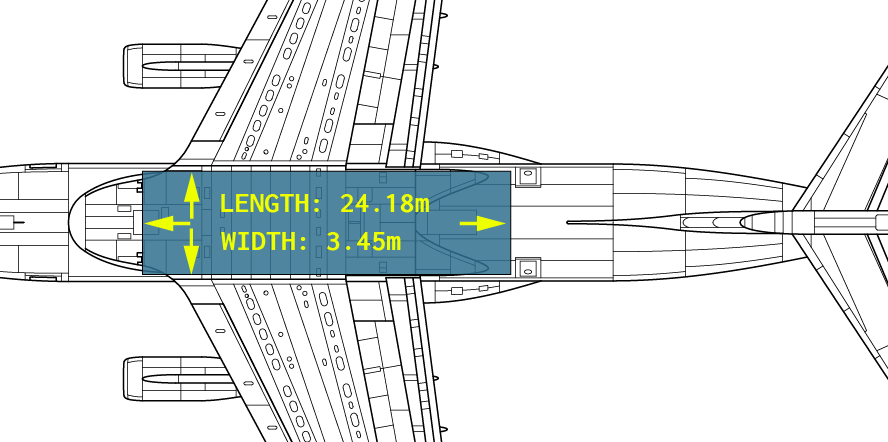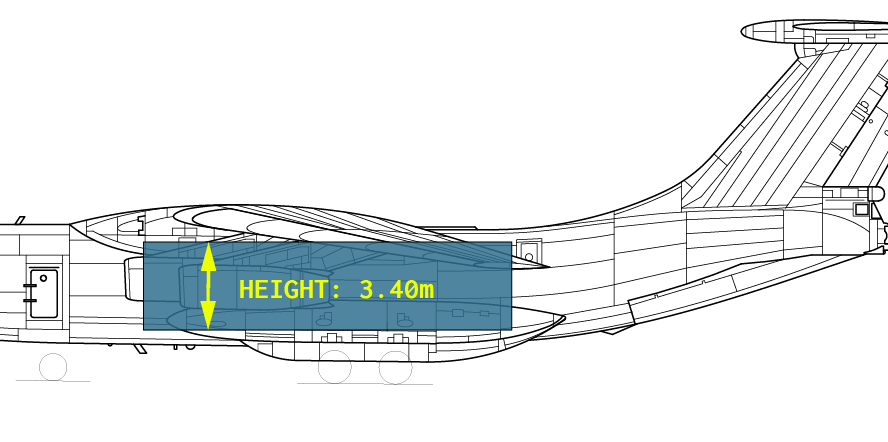 Details
Video
Tenacity
The Book of Stars
Technical data Ilyushin 76MDK
Manufacturer: Ilyushin - Moscow/Russia
Aircraft length: 46.59 meters (152,85 ft)
Aircraft height: 14.76 meters (48,43 ft)
Wingspan: 50.50 meters (165,68 ft)
Length Lab-Room (Free Floating Area): 24.18 meters (81,36 ft)
Width Lab-Room (Free Floating Area): 3.45 meters (11,32 ft)
Height Lab-Room (Free Floating Area): 3.50 meters (11,15 ft)
Max. Cargo length: 14.00 metres (45,93 ft)
Max. Cargo width: 3.30 metres (10,83 ft)
Max. Cargo height: 3.20 metres (10,50 ft)
Max. Cargo weight: 10,000 kg (22,046.3 lbs) (not valid for parabolic flights, weight limitation depends on intended use)
4 load cranes with a capacity of 2.5 t (5,511.58 lbs) load capacity each
Maximum passenger group size for parabolic flights: up to 15 persons (without instructors and core crew)
Maximum duration of condition in weightlessness: 28 - 30 seconds
Number of parabolas: Depending on the mission between 10 and 20 parabolas (depending on fuel temperature, ambient temperature and total weight)
Overload along the longitudinal or vertical axis: Nх-1x10-2 / Ny-4x10-2
Flight time: 90 - 120 minutes
total weight: 79.000 kg (174,165.19 lbs)
Total fuel quantity: 30.000 kg (66,138.68 lbs)
Power Supply
AC 3-phase: 208/115V, 400Hz, 20kVA
AC 3-phase: 36V, 400Hz, 2kVA
AC: 220V, 50H7, 3kVA
AC: 27V +/-10%, 24kVA
Lighting system
Number of built-in spotlights: 20
Axial intensity of one spotlight: minimum 15 Ix (Lux)
Operating modes for flash or illumination: on command (light frequency tested with 6K/120fps)
The installation of additional lighting systems is possible and requires clarification regarding connection options and power supply
Pressure equalization system and oxygen system
The entire usable range of the IL-76 is under constant pressure equalization. There are 11 portable oxygen devices on board that have proven their worth.
The sequence of a parabola
After take-off, mostly from the Chkalovsky Air Base near Star City, the Ilyushin sets a course for a particular flight area which is reserved for military air traffic. The flight to this area takes about 25 minutes.

After the flight area has been reached, the parachutes, which everyone has to carry during take-off, are dropped. These parachutes are mandatory in transport aircraft that do not have seats.

After about 15 minutes, the first parabola begins, which brings the IL-76MDK from an altitude of 6,000 to 9,000 metres. The aircraft is placed at an angle of 47 degrees upwards and given full thrust. During this phase, everything on board is subject to double acceleration due to gravity and +2G prevail (+1G = normal acceleration due to gravity).

After about 20 seconds the thrust is reduced, and the Ilyushin begins a parabola through aerodynamics, speed and simultaneously acting earth gravity. (Keppler's parabola). During this phase, microgravity prevails onboard the aircraft, as the plane is in free fall. This phase is called Zero-G, and the effect of weightlessness occurs, the mass of bodies is preserved.

The state of weightlessness lasts between 25 and 30 seconds. The head of the flight gives the exact seconds in 5-second steps via a loudspeaker system.

During this time, between 12 and 15 seconds are usually available for filming. That refers to raw material.

After the Zero-G phase, the pilots intercept the aeroplane again, during this flight phase +2G prevail still for 18 - 20 seconds. Then the aircraft returns to routine flight at +1G. The pause between the individual parabolas is between 3 and 5 minutes and may be extended. However, this depends on fuel consumption, ambient temperature and kerosene temperature.

Instructors support the filming; developed storyboards were sent to the GCTC weeks before. Most of the time, there are also Skype meetings with responsible persons to discuss all the details.

Please note: Such parabolic flights are subject to physical and technical conditions, which can change during the flight.

Unique stage setups can be installed in the free-floating area, but an additional time has to be planned for this.

Depending on the requirements, 10, 15 or 20 parabolas can be flown; also the simulation of moon gravity (1/6 of acceleration due to gravity) or Mars gravity (1/3 of acceleration due to gravity) is possible.
Information weather situations Technology
The flights depend on weather conditions and are only carried out if it is possible to fly on visibility. If the Zero-G flight cannot be performed in the time window on the original flight day, the flight will be performed on the following day, and program items will be exchanged.

The Zero-G Expeditions season begins at the end of March and ends in mid-November. We do not conduct Zero-G flights from the end of November until the end of March of the following year.

The Yuri A. Gagarin Cosmonaut Training Center owns three specially equipped Ilyushin-76MDK aircraft designed to perform parabolic flights. These aircraft have a unique interior, reinforced wings, stronger engines and special constructions which ensure the higher utilisation of the entire plane. The aircraft are inspected at select intervals, and a primary inspection is due once a year.

The aircraft belong to the Russian Space Agency Roskosmos. In more than 18 years since we have been flying in Russia, there has not been a single time that a flight date has been cancelled due to a technical defect that was not known at least 60 days before. The planes are very robust and reliable. The Ilyushin-76MDK planes are the largest parabolic planes in the world, and the safety of the aircraft as well as the safety during the Zero-G flight have been shown for years in our flights in many flights in reality.
Miss Universum
Die Astronautin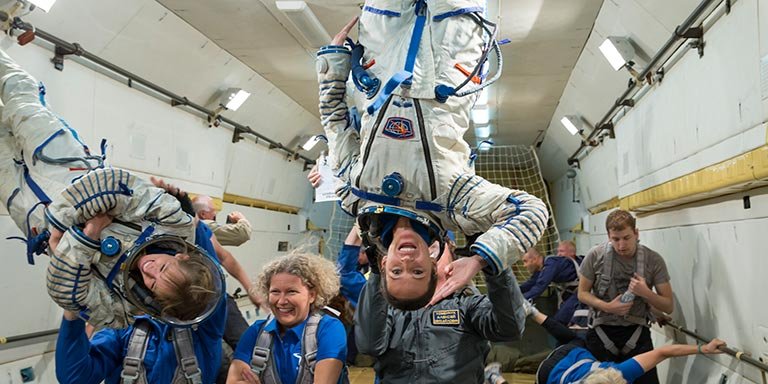 The Infinite Challenge
Munhwa Broadcasting Corp. (MBC)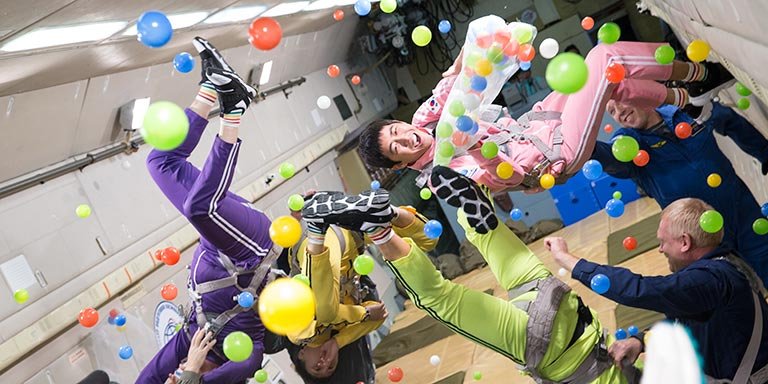 Extreme Shaving Tournament
Philips Electronics Japan Ltd.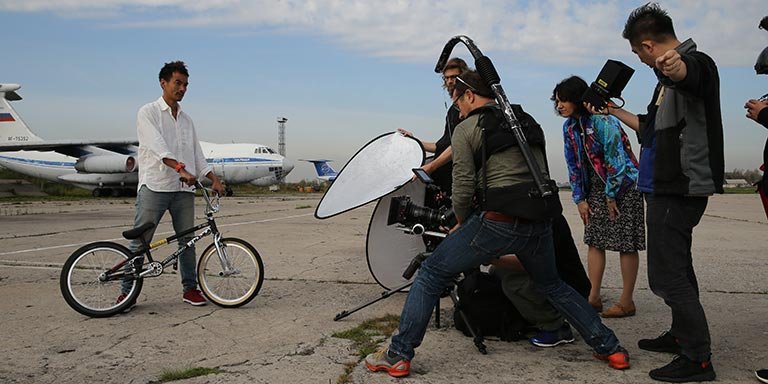 La Gravedad de los Asuntos
Artists reflecting on Gravity by its absense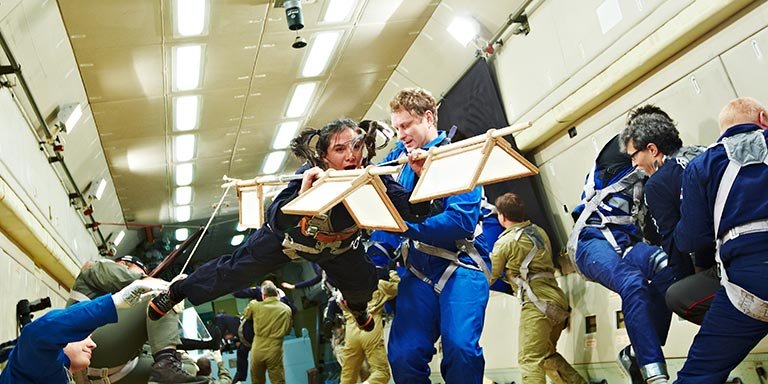 First Photoartist in Space
Zero G - Michael Najjar