I'm asking myself where I should begin? Not even 'once upon a time' would be the right beginning. It was better than that. A fairytale, perhaps?! No, the whole journey would be more respectfully described as a spell, with all the positive things you can imagine. Nothing less!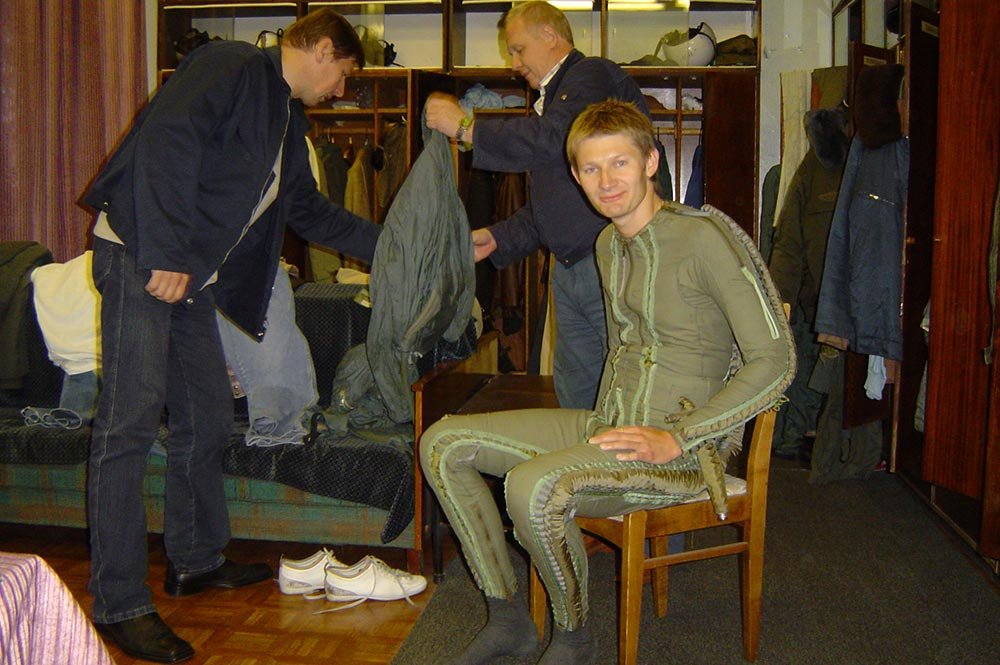 Joe during suit fitting before his MIG-31 flight
During the prime literary conversation and correspondence with the founder of Space Travellers, Andreas P. Bergweiler, we agreed upon him putting an interesting program together. And what a program! I had the pleasure of having him with me all along on this trip and was it contributing to give me the feeling of reassurance in many situations. Not because you as a customer was left alone at any time, that is during excursions, sightseeing or check-in etc., but more like because everything is strange and there is a bunch of impressions to absorb. Andreas knew the most of the people we met, and I think correctly he knew the most of the Russian space- and flight history as well. This knowledge added something extra during the visit to Star City and the Gagarin Cosmonaut Training Center, although we had both well spoken and indeed knowledgeable Russian tour guides.
A lot of times we foreigners tend to have different imaginations of Russian society and its people. That's ok. But unfortunately, they may not always be positive perhaps. And that is a shame because today's Russia is definitely different from the old one. I was met with hospitality and professionalism throughout my stay. Exciting and enlightening tours, superb restaurants, fascinating history, dynamic society, the mentality, kind and forthcoming people, made it all a cocktail so intriguing, that if something went wrong with my visa, I wouldn't mind staying there some extra weeks!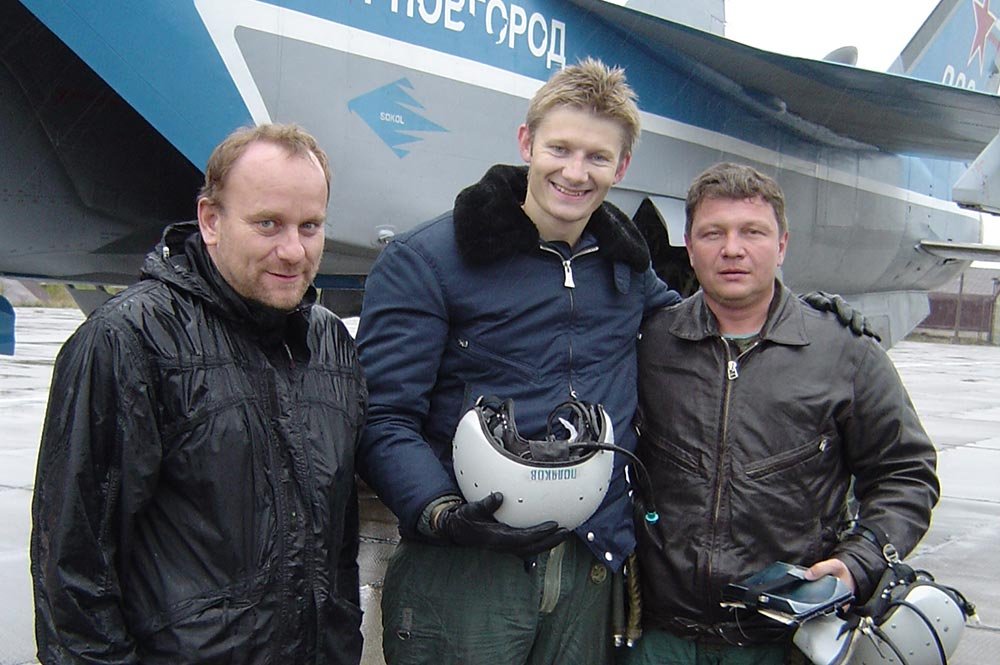 Joe with Andreas P. Bergweiler and test pilot Sergei Kara after his MIG-31 "Edge of Space" flight
Of course, all this made it only more exciting for the upcoming flight with nothing less than one of the most exciting strategic jet fighters in the world, more specifically the MIG-31. The day before the actual flight I was given specific recommendations such as, not to have too big of breakfast and to get a decent amount of sleep, to become more fit for the flight. The first one I was able to control, but the second one could be a potential problem. By 4.30 in the morning, way earlier than the birds had gone to sing my stomach was merely full of butterflies, and it became evidently challenging to obey, not to say impossible to fall asleep again. But somehow it didn't bother me.
I felt Ok and was only looking very much forward to perhaps the greatest thrill of my life! No doubt about that. Shortly before lunchtime, we were escorted to the airbase from which all these marvellous sceneries would take place. As we came to the gates of the airbase, we were forthcomingly greeted by part of the management, photographer, and security personnel. After undergoing the mandatory medical check and having been put on the purpose designed G-suit our way went to the briefing room, where I had the absolute pleasure of meeting the Russian pilot who in the next 45 minutes would take me nearly to an attitude of 21000 m!
It is normal to have a certain degree of anxiety for us 'deadly' people before such a flight. But this pilot just had such a strong aura that you actually could feel the radiation of self-confidence, authority, and competence and this, of course, contributed to my well-being as I was asked to take my seat in this considerable pilot steered rocket. And believe me by comparison the MIG-29 almost look cute.
As we taxied out to the runway and the canopy closed I was thinking: Now it's for real! Out on the beginning of the runway, the pilot tested one of the engines by giving it full throttle, then the second one, and before you knew it, we like lightning blasted off with such an incredible force, that it for a second took my breath away.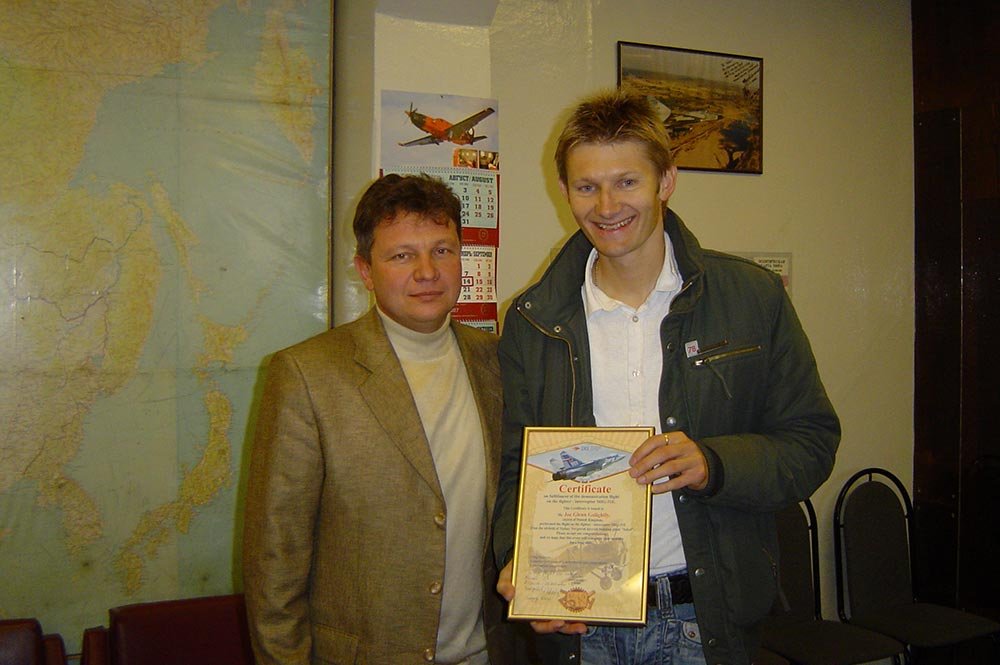 Joe receives his MIG-31 flight certificate from Sokol test pilot Sergei Kara
Woowww!! Just to feel the sheer power was impressive. Not to forget the astonishing view from up there while flying almost 2700 km/t. It's just impossible to describe it completely, and there seems only to one good advice: Make the decision and try it!! I firmly believe you won't regret it! If the whole experience were as good as mine was, you would only thank yourself.
Joe Golightly from Faroe Island - MiG 31 flight on September 13th 2007
---
In September 2007 Joe, a citizen of the Faroe Islands made his trip with Space Affairs.
He made a 7-day trip with all markable steps to see the Russian aviation and spaceflight, from the beginning of Yuri A. Gagarin in 1961. The climax of his voyage:
A flight with the MiG-31 'Foxhound' to the "edge of space"!