Flyin' So High - A Song orbiting the World
From the Captain's Log

I would now like to take you to an extraordinary project.

Let's describe it like this: "A song goes around the world!" - in the most real sense of the word.

The "Space Odyssey Project - Flyin' so high" describes the path of an idea that has gone from dream to reality to try something that is unfeasible or unattainable for many.

To understand this section, you should have read the Internet diary of my "Water Survival Training", because there you will be confronted with some names, which will also occur here. If not, it's not a bad thing, it's a story in its own right, but it would be unthinkable without it.

As you already know, many of my dreams have come true through purposeful work, but sometimes my colleague "fortuity" also has his fingers in the game, definitely!
---
Flying high
In September 2002 the Space-Frontier was a little quiet, which I needed to think about the way up. A good acquaintance, Thomas Beeking from Oberhausen, whom I had known for some time via the Internet, as well as personally, wrote me an e-mail with the following subject: "Music for you".
And I would like to tell you what came out of it here.
At first, I thought it was a mail in which Thomas wanted to point me to some "spacy music pieces" and left them, to be honest. One or two days later I dug them out of my Outlook folder again and reread them, and truncated, because the content was not about "foreign" music for me, but about my own.
Years ago Thomas had taken care of a pop band from the Ruhr-District called "TACAT" like a roadie and took care of gigs, light, sound and other things. After a few years, however, the group broke apart because of quarrels (yes, it was always the quarrels that make good projects fail before they can really get going) which had hit Thomas very hard, as he had put a lot of time and effort into this band.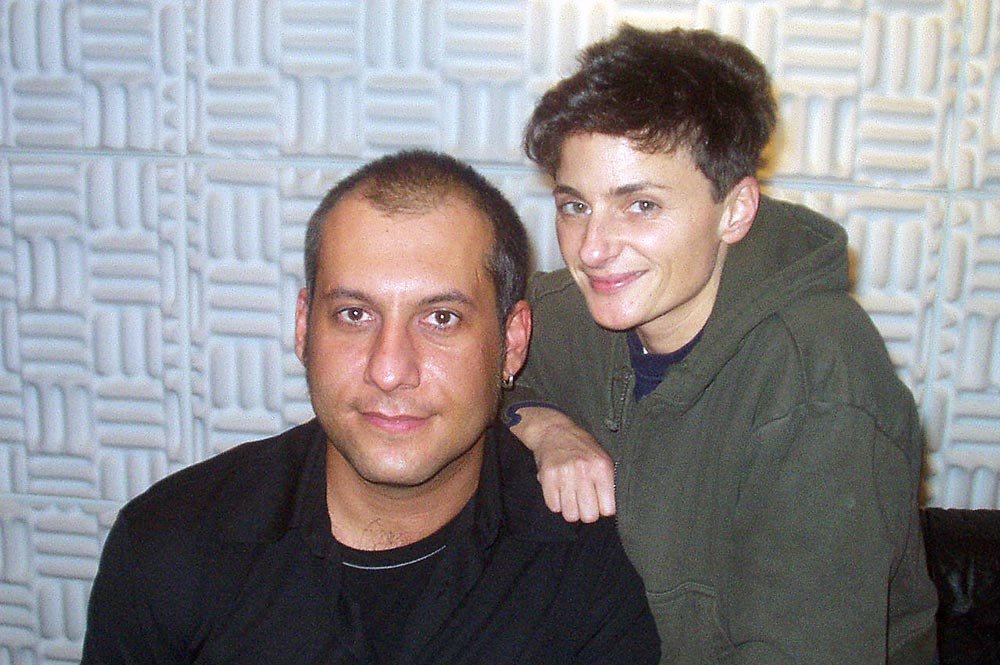 Janni and Franca - Frankfurt - December 2002
But he still knows the singer of the recent formation, Janni Karamouzis quite well and recently he would have told Janni that he could finally do something new again, namely what he always dreamed of, decent music! Thomas said to me about my project to fly to the stars, and it would be more than appropriate to write me a piece of music for this reason, which I could connect with my activities. So Janni wondered that he should probably do that and tried to compose a song in his recording studio.
After 6 weeks I met Thomas again by chance during the opening of a space exhibition at the Oberhausen CENTRO-market (exhibition Erlebnis Raumfahrt), and he gave me a CD and told me to listen to it. He wouldn't tell me what he thought so as not to be biased, so I took the CD home and looked to it in peace. The track was called "Take me to another Space" and was a typical dancefloor track. When I heard it, I liked it, but I thought the female lead was missing and then I emailed Thomas my evaluation.
While I was talking to him on the phone, a thought came into my head. I could send this CD into space! Hm, I thought, an almost unbelievable undertaking, but if I would not manage it at least so fast myself, then could already time a part of me into space. I discussed this with Thomas, he declared me totally crazy but promised to search for a female voice on the internet.
Two weeks later he had found what he was looking for in the Frankfurt area. Franca Morgano (I immediately remembered Princess Leia from Star Wars, whose last name was Organa) would be interested in the "Space Odyssey Project" I named, and Janni would contact her. So, things took their course. Christmas came, New Year and I didn't hear anything from Thomas Beeking. Good thing apparently needed time.
In the meantime, I tried to make something possible in advance, which didn't seem to be more impossible: to bring the CD to the International Space Station ISS. I phoned my Russian friends and spent hours on the phone with Igor Rudyaev from the GCTC. One of the highest phone bills of all time accumulated in those months, but it was worth it to me.
The intention was, that Yuri Malenchenko, with whom I had trained in Sochi 2001 in the Black Sea during my sea survival training for cosmonauts, together with my roommate Edward T. Lu were up to launch with American Space Shuttle Atlantis on March 1, 2003, in the STS-114 mission as ISS crew 7 to replace the ISS crew 6. And the CD should go on this journey as "Missions-Theme".
After long weeks of tough negotiations, it was clear: The CD could go along. Conditions were set. (and not only financial, you understand. Just the air we breathe is free of charge, and we can argue about that as well). She had to be in Moscow by February 9, so that she could go to Houston with Yuri Malenchenko in his onboard luggage. Then she would be quarantined, and for this reason, a precise schedule would have to be adhered to. Now it was time to spit in our hands.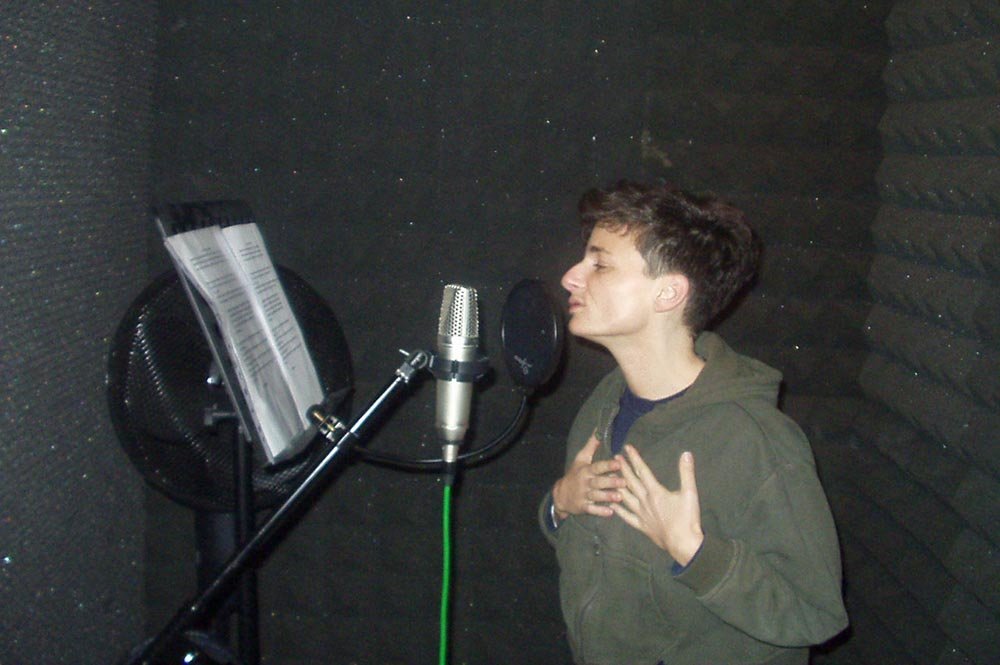 Franca in the sound studio - January 2003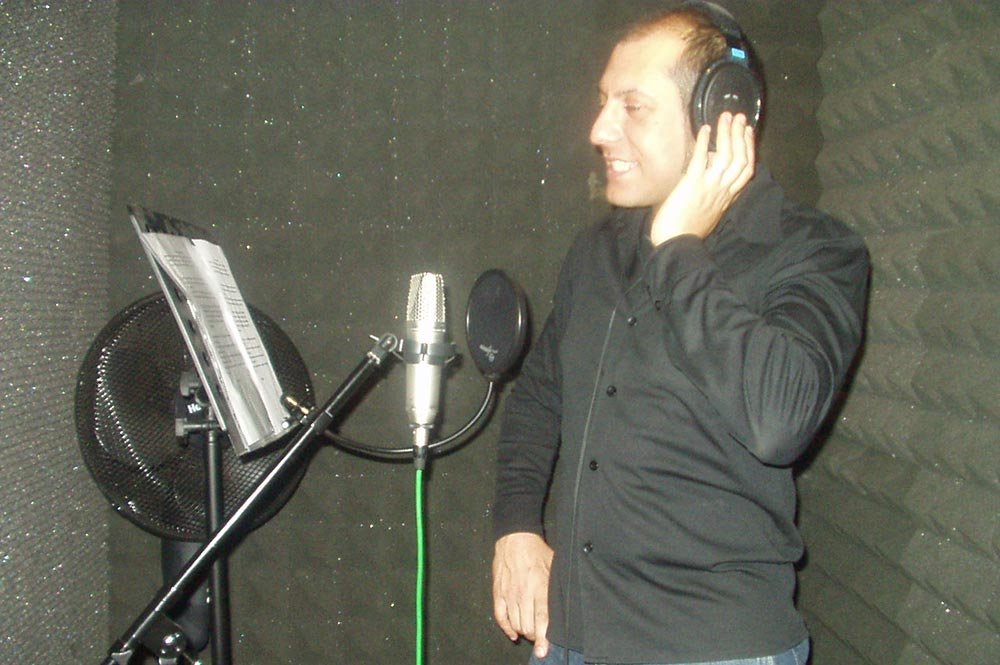 Janni in the sound studio - Frankfurt - January 2003
Janni and Franca spent a long Saturday in the studio in Frankfurt (the CD was produced by me because everything had to go fast) and it seemed as if we could keep the date. I took care of the booklet, the design, the logo and the jewel case during production. My ink photo printer worked wonders thanks to HP technology, and the day came that the CD had to be ready to keep the deadline. We hurried and worked hard on it. During the production phase, it was already clear that the title "Take me to another place" could not be kept anymore and had to be renamed to "Flyin' so high".
On the 1st of February during the day I worked wildly on the final layout of the booklet and waited for a positive sign from Thomas Beeking. Around 11 o'clock I got a call that he would send me the piece as MP3. After an hour I heard the jazzed-up song for the first time and thought: Hey, with Franca Morgano as the female lead the song sounds much better, and they had made another one out of the basic sound. Not so bad at all!
Around 1 pm on the same afternoon, the booklet went into print, and Thomas promised that the CD would be there on Monday in the original so that she could travel to Russia on Tuesday. We were entirely pressed for time, but it looked quite good, but: it came differently, and none of us had expected this "different"!
---
A dream burns up over Texas - STS 107 Columbia
On February 1, around 2 p.m. the phone was ringing, and Stefan Pisters called and said in his Nordic way: "Listen buddy, did you also hear? Columbia is missing!" I meant: "How missed?" and had to think about it first, because I had forgotten entirely because of the CD stress, that the Space Shuttle Columbia was on a 17-day research mission in space, which also had an idea of mine on it: a painted picture of the German Space Art artist Michael Böhme.
I said to Stefan: "Never and never! During the re-entry phase, there is a total black-out for about 7 minutes when the shuttle approaches the Earth's atmosphere at 28,000 kilometres per hour and begins its ride through the atmosphere. No radio message or telemetry data can escape through a fireball of ionising gas." "I know that," Stefan said, "but they've been over those 7 minutes for 20 minutes!
At the same time, my cell phone was rapping, and Thomas Beeking was on the phone, giving only one sentence: "Andreas, turn on the TV and watch on RTL". I threw the receiver on the fork and ran upstairs into the living room. Astrid sat there, absorbed in medical books and I turned on the TV and switched to RTL. The first thing I saw was Peter Klöppel, the Anchor Man from RTL News.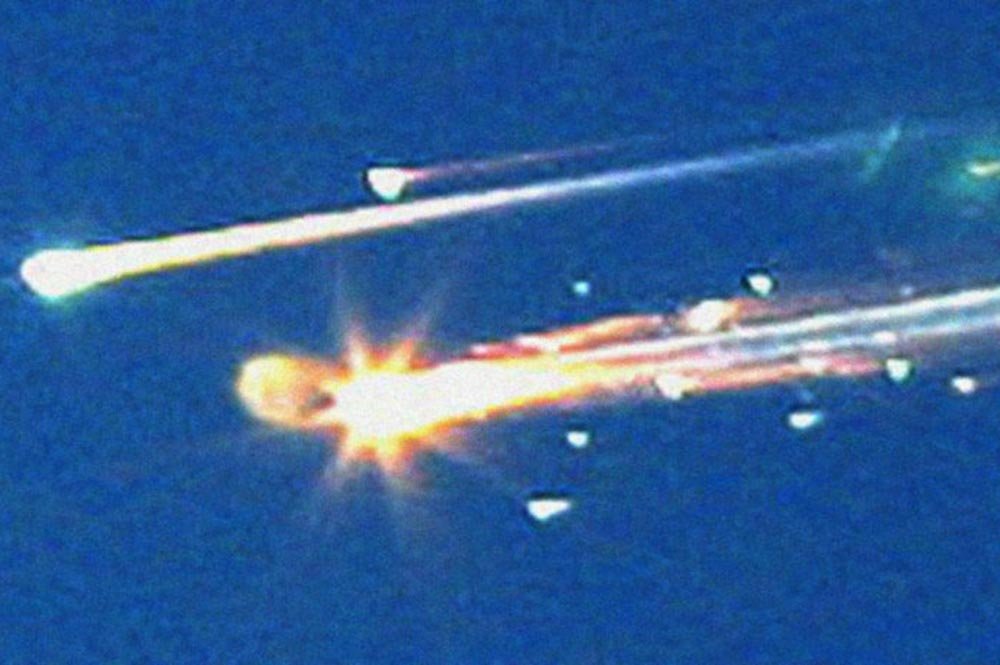 STS-107 "Columbia" is burning up over Texas - February 2003
I remembered my day before my trip to Russia on 12.09.2001, the same picture before my eyes, with Peter Klöppel. But, the background of the RTL special was entirely different: the shuttle Columbia had an accident, and you could see bright shining stripes in the sky. Then a bright point broke into several parts, and it was clear: Columbia was lost, the crew members were all dead, and you could watch the fall back of the debris to the ground live on the screen. I could hardly believe it.
What some had predicted had happened. After the Challenger disaster in February 1986, the next space disaster was perfect. And as funny as it sounded: the thing with the CD "The Space Odyssey Project" had disappeared by one second. Now space travel would lie fallow, and no more shuttles would fly to the International Space Station ISS for several years. And so, the dream of flying a part of me to the ISS to have a "forerunner" in space was shattered by accident.
Sounds very selfish, but if you plan such a project for weeks and months, you have reached the end of your dreams. 7 people lost their lives due to this misfortune. So, it became clear to everyone: space travel is dangerous! And above all (although many thinks this) space travel has grown every day in our time, however, it is a technology, which holds many dangers in itself if the technology or also the human being fails.
What remained? Only the wish that everything should be over quickly. In such a situation one does not think about what happened, but that there are things on which one definitely has no influence.
A few days of resignation followed. Everything we had worked towards was put on hold. I often phoned Igor Rudyaev from the GCTC to find out what the Russians thought about that disaster, and one thing was clear. Now the Russians had to bear the main burden to continue supplying the ISS. I knew that crewed space travel would continue. After the Challenger disaster it follows an over two and a half years break with no flights into space.
---
Off to the ISS!
After about 3 weeks, at the beginning of March, the story crystallised anew: Yuri Malenchenko and Edward T. Lu would not fly to the ISS with the space shuttle Atlantis but would launch with a Russian Soyuz from Baikonur. And I got the go to send the CD along on this journey. I felt very honoured, and also gravely concerned and first thought of stopping the project. The catastrophe of Columbia was still too deep in the bones. But on the other hand, I thought: Accidents have to happen so that it can be done better afterwards. Unfortunately, it always comes at the cost of human lives, and that's the negative side.
The CD got a new design because now there was a memorial to the last flight of Columbia on the back. I thought because it could contribute the catastrophe with a small part to pay tribute to the men and women of Columbia. On April 3rd I spent the whole day finding the best way to send it to Moscow, in the afternoon it went on a trip to Moscow. Igor would hand over the CD to Yuri in a small ceremony, and he would take it with him in his onboard luggage.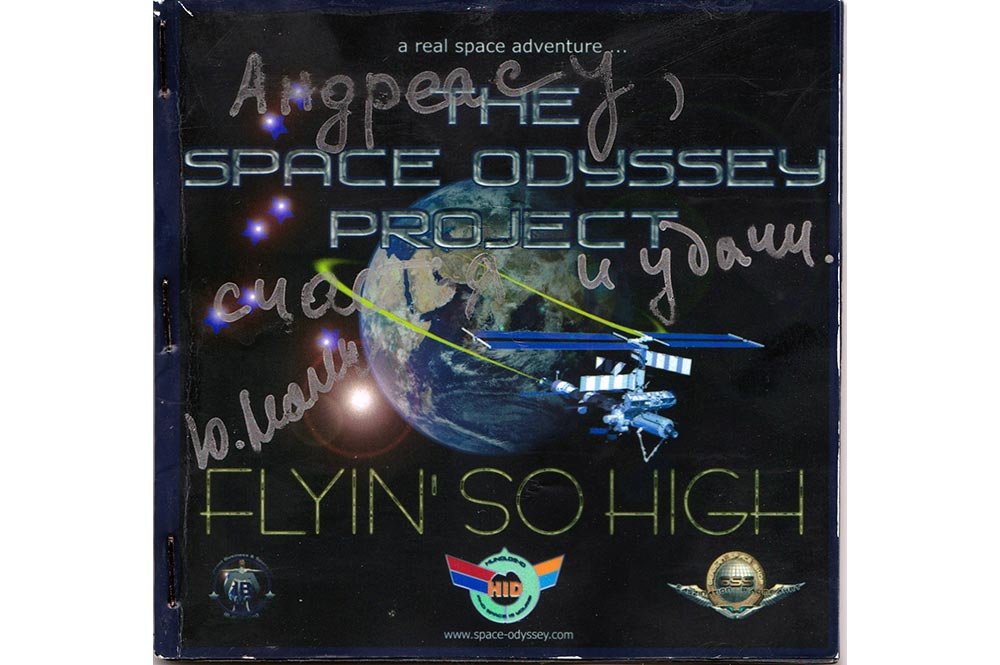 The Original CD booklet as seen after more than 180 days in space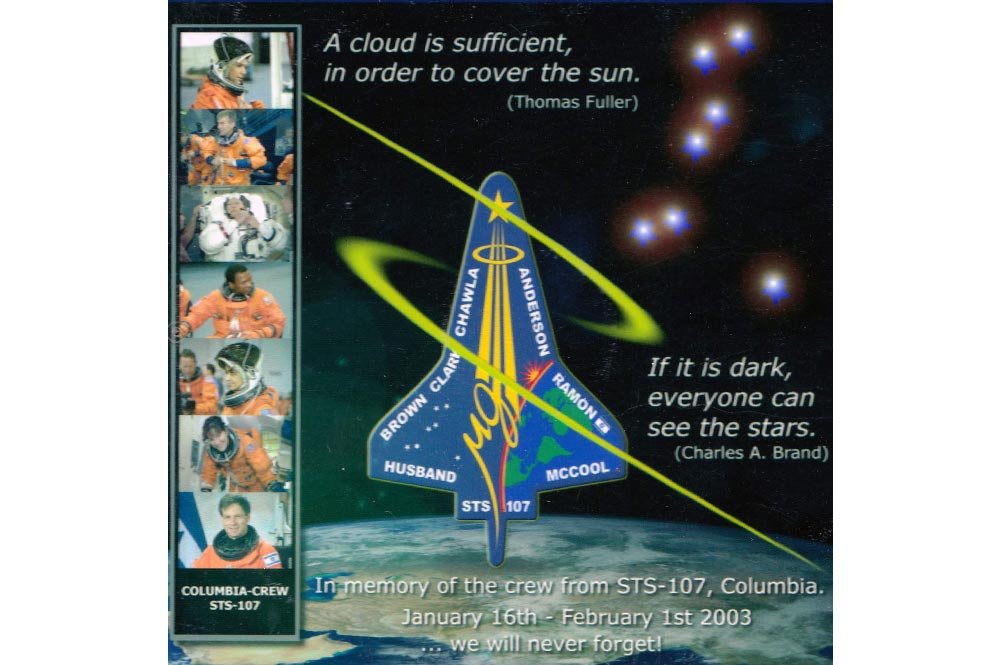 New back cover-design - March 2003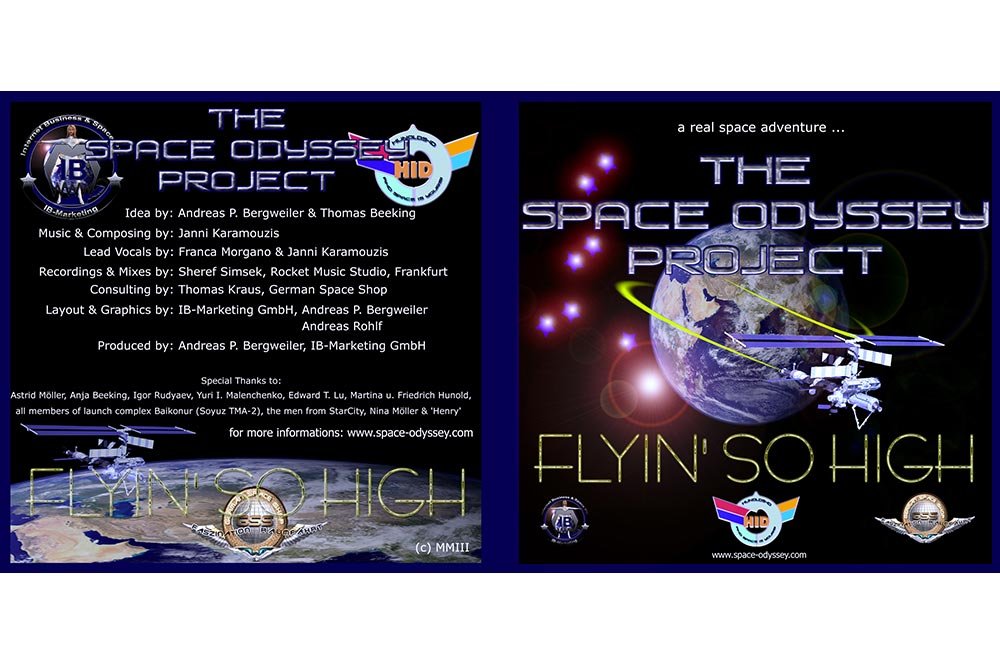 The CD Booklet - February 2003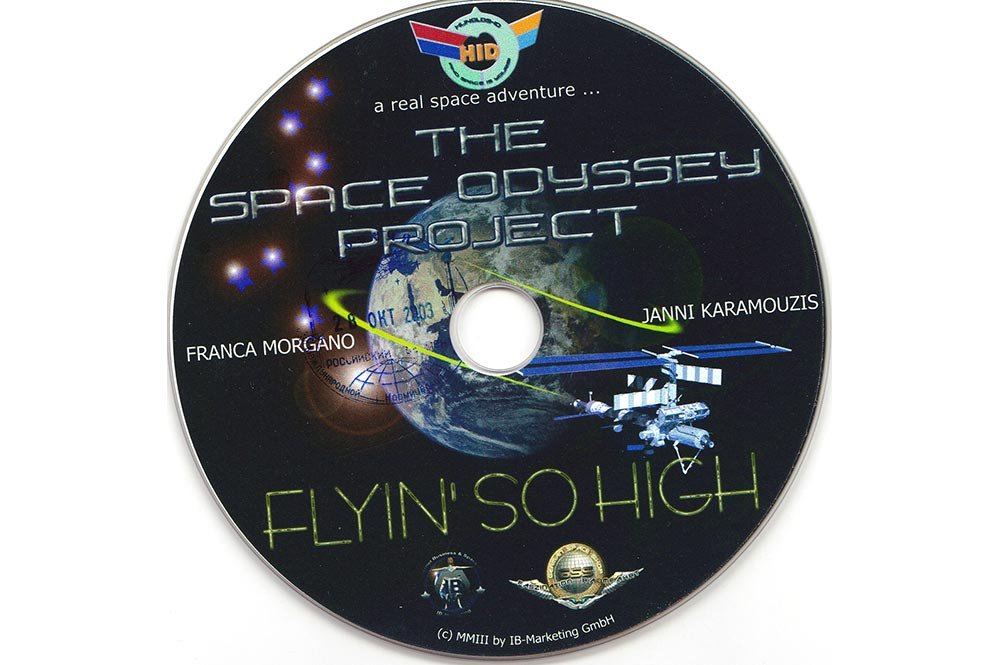 Original CD with postal stamp of the ISS (landing day)
A few weeks of tension followed. The CD was in Moscow within three days but was then detained at customs, and Igor could not get it out of customs.
For security reasons I made another unique piece, the identical twin of the CD, which went on its way the day before Good Friday, hoping it would be there fast! The crew would leave Star City on Easter Sunday (which we meant in Germany, Russia celebrated Easter one week later) and set off in the direction of Baikonur to start on Saturday 26 April with Soyuz-TMA2.
On Saturday before Easter, I received a mail from Igor that the first CD had arrived after all. He would have given it to Yuri, and so we were on schedule. The second CD reached Moscow on Monday (Easter Monday with us) and also got stuck in customs. Well, it was like in real space travel: every crew has a so-called backup crew. So, the CD "Flyin´ so high" also had a backup CD.
It was good to know that the CD was on its way to Baikonur. But would it actually fly?
Saturday, April 26, 2003: The launch was scheduled for 5.54 a.m. CEST. I still thought about watching the start on TV but didn't know if any station would broadcast the beginning. Usually, take-offs are part of everyday life, only shuttle flights are broadcast by CNN, but here the world interest was already behaving in another direction: it was the first crewed flight after the Columbia catastrophe. Early in the morning on Saturday, I fell asleep.
Something tickled my feet at half past five in the morning. I woke up and thought it would be a good time to get up and see if I could watch the start live on TV. And indeed: CNN brought a live report from Baikonur, and on time the Soyuz rocket took off with its Soyuz spacecraft with my two friends. After two minutes the news came that the flight was completely normal, and I breathed a sigh of relief when I found out on the Internet minutes later that the spaceship had arrived safely in Earth orbit. Thus, the first 400 kilometres of the long journey had been covered.
To be honest, I was relieved, and so was everyone else who had put their time into the project. I had made the impossible possible. For me, it had also been like climbing Mount Everest, and the following days I often talked to those involved in the project. And logically, we were also a bit proud.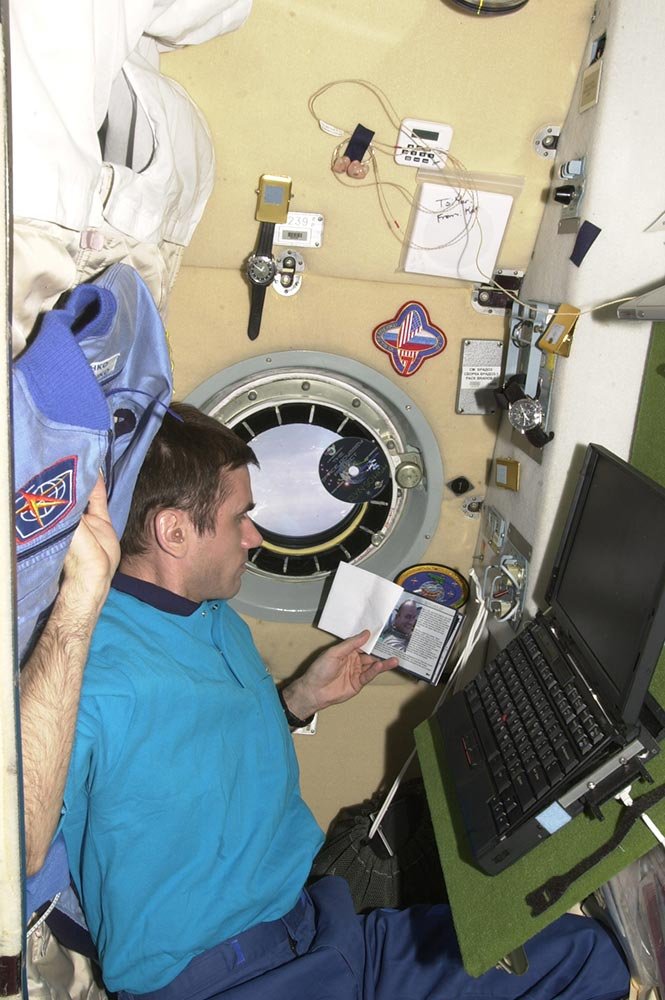 Yuri Malenchenko in his cabin - ISS - 2003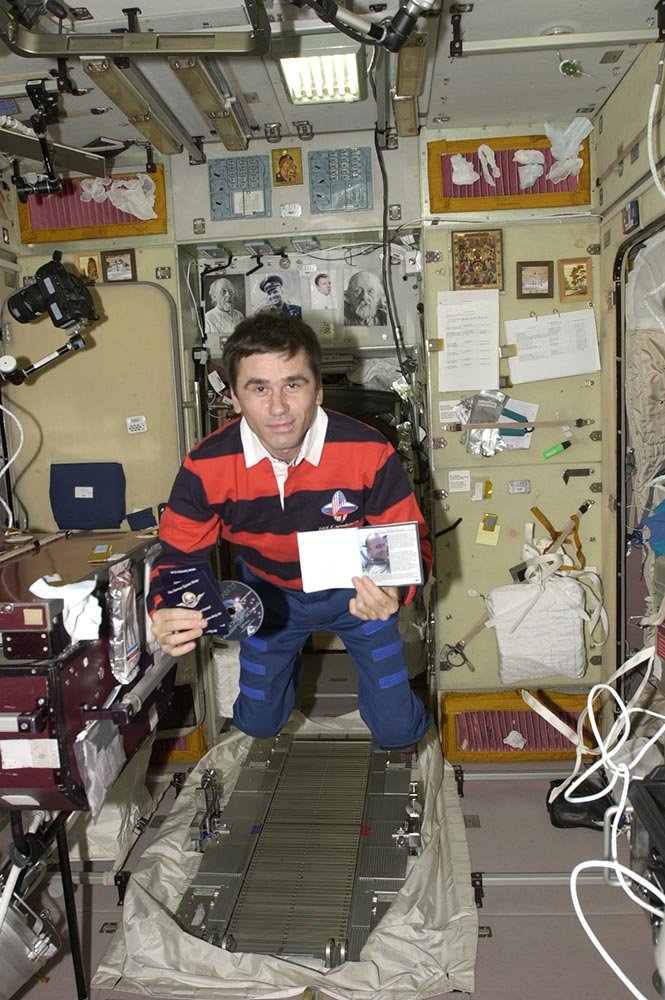 Yuri during photo-sessions - ISS - 2003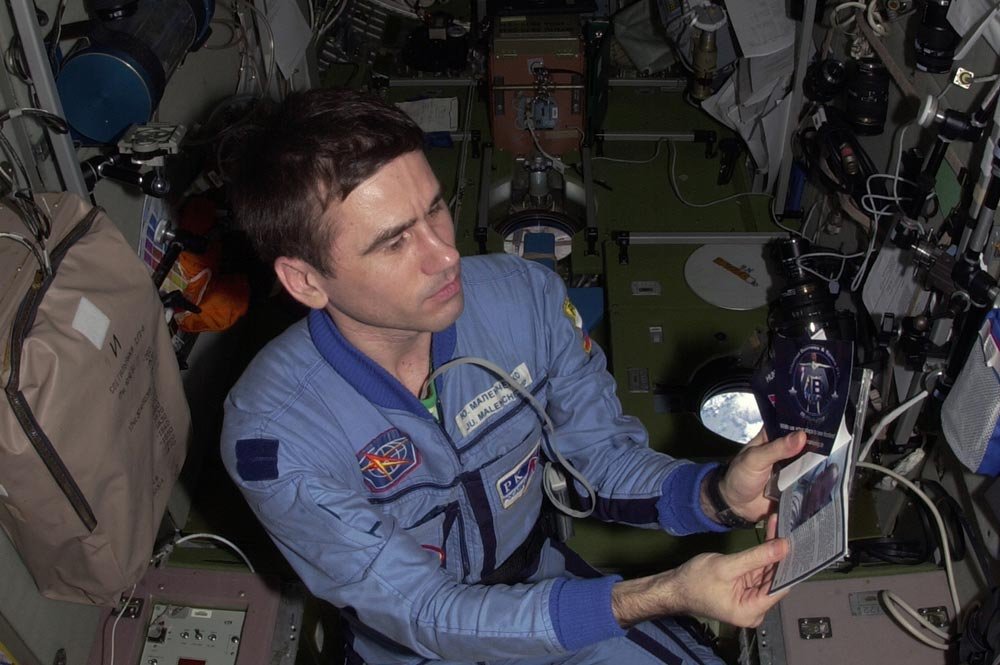 Yuri during photo-sessions - ISS - 2003
Now the waiting for the first pictures from space began, but it took a few months. I had to write a storybook, what should happen with the CD on board, which photos should be considered, also a video should be made of Yuri.
At Whitsun, I flew to Moscow to meet Igor. There we made the next steps clear, and during my stay for further pieces of training at the beginning of September, my left alone computer at home received the first pictures by e-mail, which I could look at however only then, when I had German soil under the feet again after the 12th September.
The pictures astonished me, as they were the first to show the portrait of me. Again, an idea, which had been born at the beginning of the year before, had been put into reality with the e-Mail of Thomas Beeking "Music for you", and my thoughts to fly into space didn't seem so far away anymore.
If I had been asked three years ago if I could imagine flying into space myself, I would have laughed and waved. "Imagine yes, but I don't think I have the necessary contacts."
A lot can be imagined, but you can achieve a lot if you have the necessary courage, the right ideas at the right time and patience, because such things don't develop overnight.
"If the time is not ripe, nothing can let it happen. When the time is ripe, nothing will stop it".
By Andreas P. Bergweiler – "The Space Odyssey Project" – November 2002 – October 2003
---
Andreas P. Bergweiler