Zero Gravity: A silent question
When we are born we pass in an instant from the dark to the light, from weightlessness to heaviness; here is our first contact with life. In dreams, we remember this primitive state of lightness, and so we dream of flying. Our planet and its life are moulded by gravity, and yet this force is the weakest in the universe. We find its mysterious presence in our bodies, in our language and we fight against it to grow and to reach the stars.
The Poster of "La Gravedad de Los Asuntos"
The Matters of Gravity (La Gravedad de los Asuntos) highlights the fundamental principles of humankind. With a lightness to be able to fly together, but with a gravity that inevitably makes us fall again. Every one of us, here on Earth, is attached to a force that goes beyond all comprehension but not beyond our lives.
Two years of reflexion and a few seconds in zero gravity, were the origins of a series of artists' work that has been completed at the Yuri Gagarin Cosmonaut Training Centre in Russia. There, on board the iconic Ilyushin 76 MDK, 9 artists and 1 scientist from Mexico were subject to an environment of weightlessness.
A few seconds were enough to experiment with eternity, to tell a story, to break a paradigm, to liberate a molecule, to have an illusion, to experience movement without references, to create poetry out of two bodies, to make the useless become useful and to search for an impossible embrace.
Director: Nahum
Artistic director: Ale de la Puente
---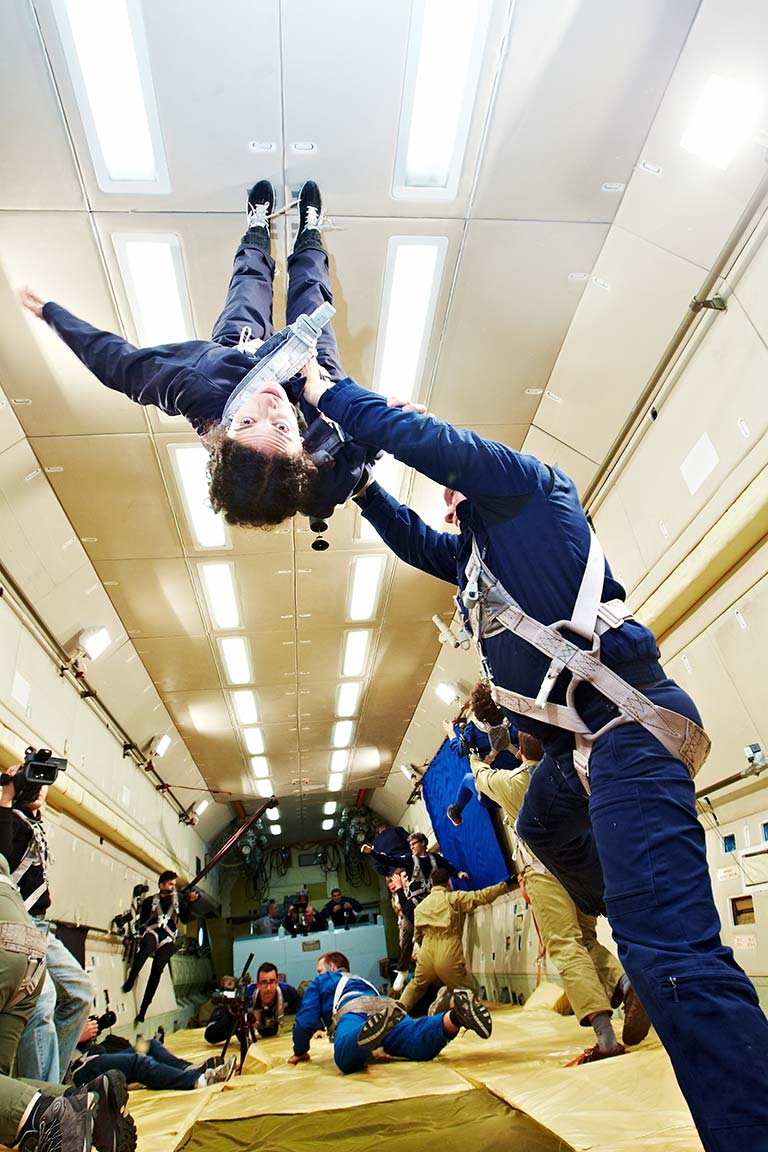 Artist Michaela Almaz walking on the ceiling of the IL-76 MDK
Anybody said it can't be done. Then some came who didn't know that anybody said it can't be done, and they did it!
Nahum, a multi-talented artist from Mexico and director of "La Gravedad de Los Asuntos" (The Matters Of Gravity), contacted us in mid of June 2014 with a special request. Since 2,5 years he and 8 other artists and one scientist from Mexico were working on a special project named "La Gravedad de Los Asuntos". More than 10 years ago, the English arts foundation "The Artscatalyst" did in Russia a zero-G flight onboard of the Ilyushin 76 with international artists, and Nahum needed a parabolic flight. Several attempts to find out a flight opportunity by himself weren't successful, he always received "It can't be done!".
Nahum did not stop here, he spoke with Artscatalyst again, and they guided him to our side. The critical factor of this was German artist Michael Najjar, who also has a deep relationship to The Artscatalyst Foundation. He participated on a zero-G flight, and the curator recognised this and gave info to Nahum in Mexico, that he should have to consider a talk with us. From the beginning on it was clear that this would be a mission that wouldn't be easy, but precisely these are missions what we love here at Space Affairs: tasks what could not be done by anybody!
Nahum and our mission director Andreas worked each day very hard to have the storyline for this flight. This wasn't a normal flight what we usually do, we have to build the cargo bay inside the Ilyushin like a film set.
After weeks and weeks, it centralised out of the storybook the script book, and we came to a point, that we have to write a particular letter to the head of the Gagarin Cosmonaut Training Center via our since more than 10 years partner Vegitel. Nobody knew if it works. And only in one week, they decided to do this flight! So, the story continued, and Nahum wrote after the flight an extraordinary letter to our side:
---
Dear Andreas,
It's been such a journey. It's been one week since we landed back in Mexico but still floating. Still, can't believe it happened and that we managed to put everything together. What I know is that this wouldn't have been possible without YOU. We went into stressful moments but there was a mission to complete, and we were on the same page.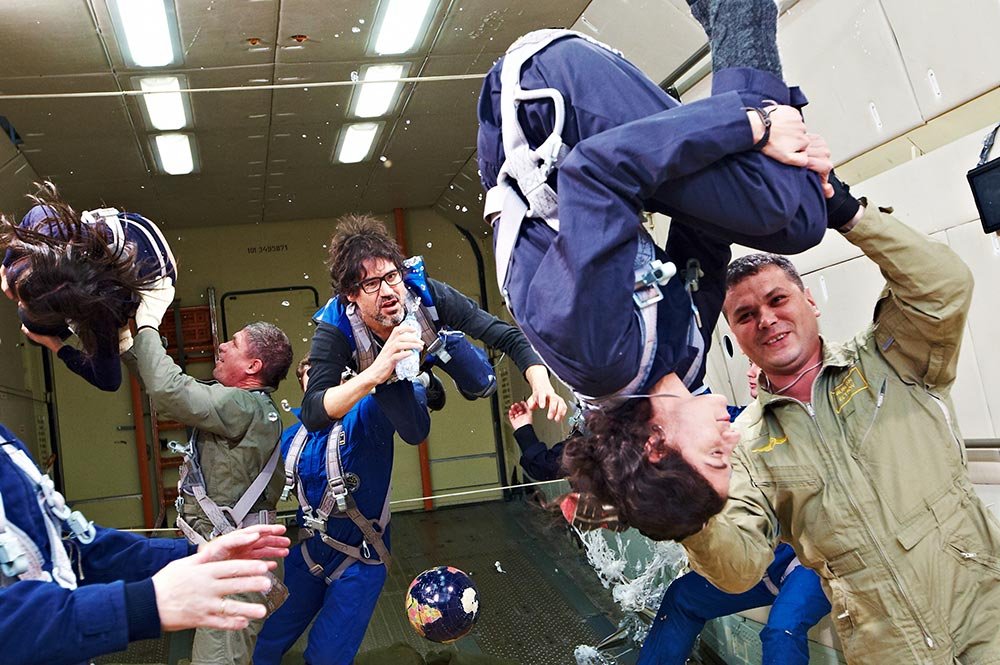 A part of the mexican artists during a weightlessness phase
In a way, I like the fact that you didn't see all the things we had to go through, believe I have worked so much on a project as I did with this one. For a month it was almost unbearable, but I knew I had a commitment with you and with this project of mine. The entire of Mexico was upside down and still is. The international community had their eyes on us and to be honest, many thought this wouldn't happen - but we did, so:
---
MISSION ACCOMPLISHED!
I feel a 'thank you' won't make justice to all the gratitude you deserve from us. I knocked on every known door to get a zero-g flight, and you were the only one who did it. Even people in the space agencies are asking me how the deal was made as it's close to impossible to get such an opportunity. I don't know how you did it, but whatever you did is something, and I could see it when people from ROSCOSMOS were greeting you.
Everything was executed perfectly. The Arts Catalyst told me that the most complicated aspects of going to Russia were transport, food, and accommodation and for us that was really smooth.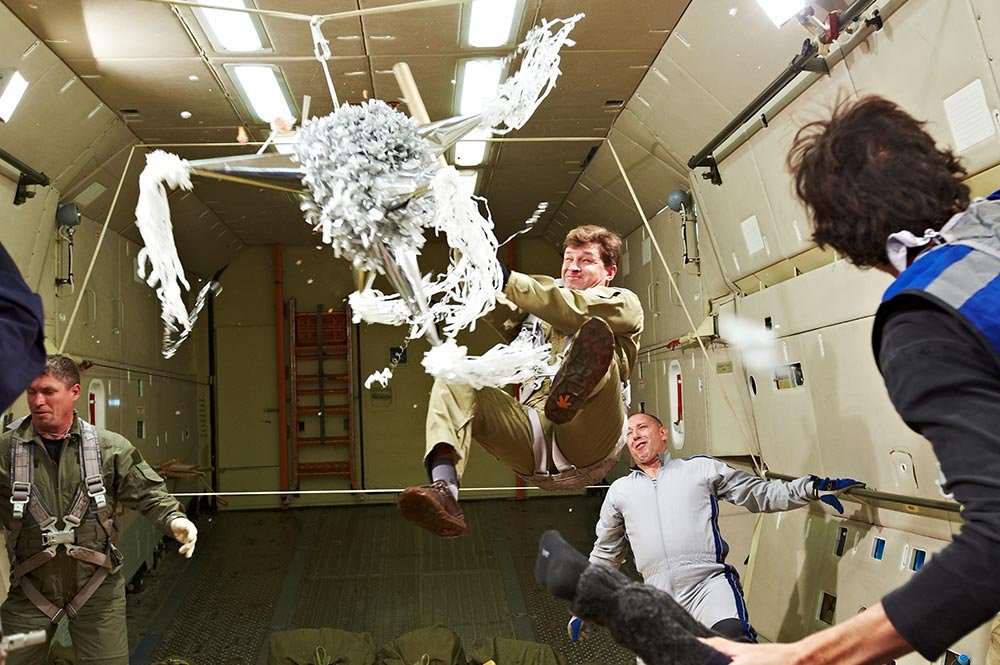 "Super Nova" - A mexican Piñata in weightlessness
The flight was perfect, and I was very touched by the spirit of the crew - I never heard a 'no', everything was possible and they made it real with a smile on their faces. On the flight day, they knew perfectly what to do and how to do it - I wasn't expecting this perfection. It was a real honour to have this flight under these circumstances.
One week after being in Mexico and our minds are still somewhere in Moscow where we shall go back in April. I was sad you missed the press conference and the Mexican Embassy and the public talk with Polytechnic Museum. People in Russia were super excited with the project and now have plans of opening the exhibition on 31st of March, and apparently, they have been in touch with Valentina Tereshkova, who might join us on an opening day (Yuri's night). Also, it will be exhibited in Mexico City, Slovenia and the USA in 2015 and in 2016 Paris, London and Poland so far as the project keeps growing.
Believe this flight will make history in the art science world and will be a reference for many years to come and you are part of this! Also, it would be great if you could join us on some of the activities as you were the only crazy one to understand the project and jump on the bandwagon.
In the meantime, we have to work on delivering a comprehensive exhibition, and for this, I may ask you for a text describing what this mission meant to you! It will be eventually published in a colourful book by the end of 2015.
So yes, this is the story is not over as it will continue for some years to come... Also if there are some zero-g flight in April/May, Ale and I might join - think about that! Eventually, I will be bouncing with you some thoughts of future projects I want to make and possibly we could join forces for a new thing.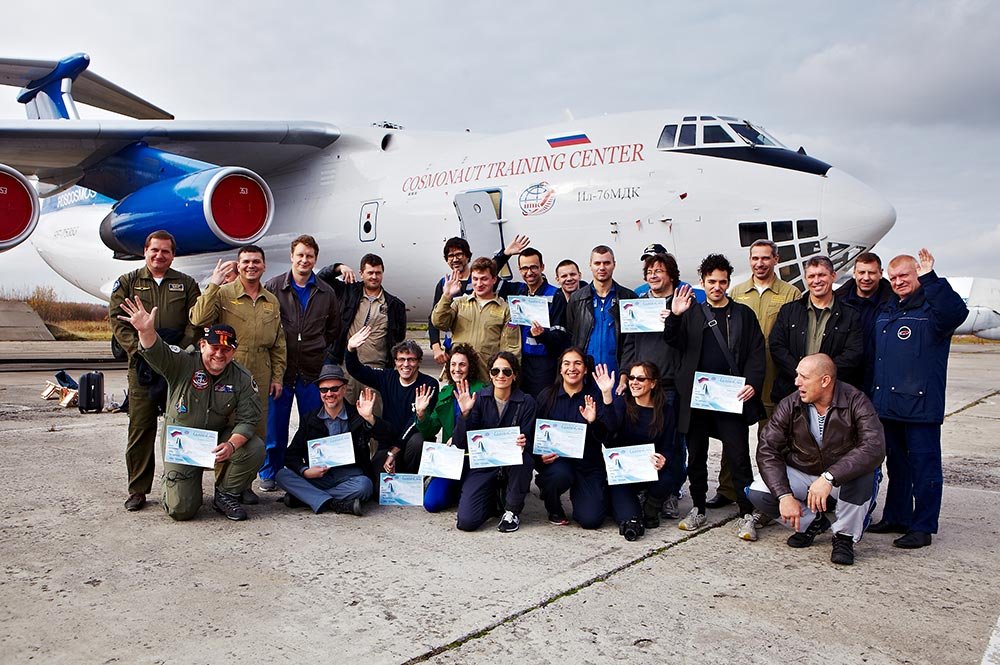 Mexican artists with instructors and pilots of the IL-76 MDK after their flight
Once again THANK YOU!! On behalf of everyone and especially myself we will always be grateful for this life-changing experience - it's not over!
Abrazos
Nahum
---
Space Affairs wants to thank the officials of the Gagarin Cosmonaut Training Center and the zero-G flight department, the flight crew and pilots of the Ilyushin 76 MDK, the zeroG and safety instructors onboard the plane (especially Anatoly and Pavel), the maintenance and ground crew of the Ilyushin 76 MDK plane. And finally, our long year organising partner Vegitel in Russia (especially Vlad who lost a lot of hairs before, during and after the special mission)!
This unique international mission would not have been possible if we did not work together for more than 10 years for now! A big THANK TO ALL OF YOU, for the never-ending work and the patience what is always needed, to conduct such missions finally! Vassily, Vlad, Elena, Ksenia and Kate - thank you! For the never-ending workflow, to keep low any stressful moments and for the patience. We also want to say like Nahum: MISSION ACCOMPLISHED!
But after the mission is before the mission!
---
Nahum was very close to despair when he first contacted us in early June 2014. For over two years he has been working on the project "La Gravedad de Los Asuntos". He booked flights in the USA which were cancelled just before the start and after many unsuccessful attempts he came to us.
We completed this project within four months.